G'morning Bama fans. Last night I was in an Irish pub when I spotted a bunch of dollar bills on the wall. It was way too crowded so I didn't get to ask why American currency was attached to their bar, but I did spot this gem. Roll Motherfucking Tide from Deutschland.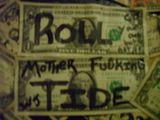 iTunes:
1. Freeway - Philly Free
2. The Script - Breakeven (Again?)
3. Beastie Boys - Hey Ladies (One of my favorite Beasties songs. Guaranteed to rock a party)
4. Redman - Whut Ima Do Now (Doc brings the funk)
5. The-Dream - Baby feat. LL Cool J (Some James Todd Smith for my Queen)
6. KiloTon - Lyrically Blowed
7. Talib Kweli - Astro Turf feat. Oh No
8. R. Kelly - Suicide
9. Prince Rakeem - Sexcapades (haha This is RZA before he was RZA!!!)
10. 9th Wonder - Track 01 (from Unreleased Instrumentals)
Bonus Chune - Nick Drake - Things Behind The Sun
FanPosts are just that; posts created by the fans. They are in no way indicative of the opinions of SBN and the authors of Roll Bama Roll.