Well look what we have here. A new era of RBR is upon us. New managers, authors, commenters, trolls, lurkers, etc. I like it. The format is still a bitch, but meh...such is life. One thing that'll never change is that this site will be home to the greatest fans of the greatest team to ever play the great game of football. Can I get a muhfuckin' Roll Tide?!? ROLL TIDE!
Ok, I'm not a great writer, so I'ma just post my R10. Well, it's not really random. This week I'll be delivering the latest and greatest hip-hop that I'm listening to at the moment. Some of it's new, some of it's old...but it still goes hard. If it's not your style, keep it moving. If it is, have a listen, nod your head, and lemme know so I can post a link to the download (most of these are from free albums/mixtapes, so get off my back, squares). Without further adieu, the friday (semi) Random 10 of Spock Jenkins - RBR's King of Hip-Hop: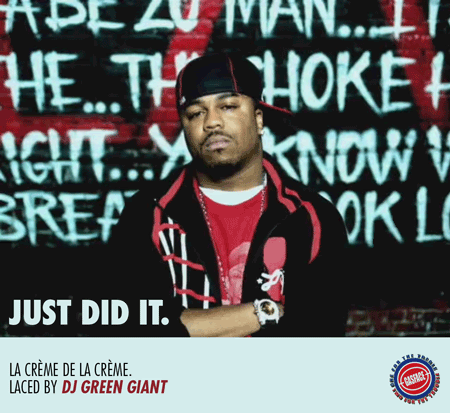 1. Asher Roth - In The Kitchen feat. Chuck Inglish [peep the relevant satin 49ers jacket. even though I think they'll lose Sunday]
2. G-Eazy - Loaded feat. Carnage [semi NSFW cuz of ASS and cot damn does this bang]
3. Spark Master Tape - Razor Boomslanging [I don't know much about this cat but I just know this mixtape is ridiculous. he screws his vocals down, which could sometimes be annoying but with clever, braggadocious wordplay he can get away with it. plus, it doesn't hurt that every beat is a banger]
4. Kendrick Lamar - Bitch Don't Kill My Vibe [this needs no explanation, although I hope this is the right version. GEMA blocked the video in Germany. lames]
5. Joey Bada$$ - Waves [this kid is the future of hip-hop. this is just one track from his flawless album from 2012. the best album of the year IMHO]
6. XXYYXX - About You [not entirely hip-hop, I guess. if you wanna get specific, I guess it's downtempo/future garage/chillwave but who gives a fuck, it's fucking beautiful music. I saw this kid (yes he's 17) in Trier late last year and he killed it. sit back and vibe to this]
7. Action Bronson - Bitch I Deserve You [this fat, white dude is amazing on the mic and is also a well respected chef in NYC. yes, he sounds a lot like Ghostface Killah, but the more you listen, the more he separates himself and becomes even more awesome]
8. Kanye West - White Dress [you may think the dude is an asshole (and he is) but Yeezy has been steadily making some of the best music for a decade now. this is a random single he dropped late last year that seems like a thinly veiled love song to Kim K. his verses are so clever and you can feel the passion in his voice on this joint. it's fucking beautiful and makes me want to get married hahahaha]
9. Bear Face - Rated R (Bootleg Edit) - [this is actually a Jerimih song but I refuse to put that as the title because Bear Face destroyed this song. turned a wack R&B song into a hard-hitting, deep trap banger. once again, vibe out to this one]
10. Sweater Beats - Make A Move [another track that borders the line of R&B/chillwave but I think it's a perfect track in which to end this list. I suggest listening to this on headphones, closing your eyes, having a drink or smoke, smile, and enjoy the beauty that is life. or have sex to it...that works, too]
Bonus Chune. Supa Sortahuman - Me And You feat. Lil Ugly Mane - [Huntsville, Alabama's own Supasortahuman makes ghetto, screwed, ignorant hip-hop but I'll be damned if it ain't fun and catchy. this is my favorite track off his Supasonic mixtape from 2012. so chill and wild and you always gotta support good, local hip-hop]
Click the links for awesomeness, dummies.