This week the Alabama offense will be lining up against the Panthers of Georgia State. As most probably are aware, this is a team that is in transition from Division 1 FCS to FBS, and is showing the expected growing pains of the move. Under first year head Coach Trent Miles, the Panthers are 0-4, including an 0-3 mark against current FCS (yes, that is a C!) teams. Not a good sign for a team hoping to make an impact in college football's highest level. It would make sense for a team in GSU's position to struggle against its new Sun Belt brethren, but to lose all three to the division from which it has been promoted, including a 42-14 blowout at the hands of Chattanooga at home, is certainly disconcerting.
Despite the poor start, there are good signs going forward. Aforementioned Trent Miles has proven that he can turn around even the worst of circumstances. In 2008 he took over as head coach of the Indiana State Sycamores, which under previous head coach Lou West, had a 3 season record of 1-32. After struggling to an 0-12 record in 2008, Miles's team achieved their first victory in 33 games against Western Illinois in 2009. Then Indiana State went on to records of 6-5 in both 2010 and 2011, and 7-4 in 2012, before Coach Miles took the job in Atlanta.
While Miles's Georgia State defense has clearly had its problems, giving up 36.5 points per game, its best effort so far was in its last contest, against Jacksonville State. The panthers held JSU to 23 points in regulation, eventually giving up a TD to lose in OT. As a team, Georgia State ranks 106th in the FBS in total yards allowed, at 461 per game.
Scheme-wise, you will see a familiar defensive look from Georgia State, as they like to line up in a base 3-4, with an OLB, usually Tarris Batiste (#3), acting as a 4th lineman to rush up field and make plays in the backfield. In passing situations, Batiste will back off in coverage as you will see a lot of nickel with a variation of blitz packages. The glaring difference between this defense and others in the FBS is size. Batiste, while the clear playmaker of the defense, with 24 total tackles and 4.5 TFL, is only 6-1, 210, and would make an undersized safety in the SEC, much less outside Linebacker. (Adrian Hubbard is listed at 6-6, 252) In the following 2 images, you can see a sample of the variety of ways Georgia State uses Batiste:
Here, in a probable run formation, Batiste becomes the fourth lineman on the back side. His job here is to seal any back side runs. On this particular play, his aggressiveness is his undoing as he over pursues a play side fake and misses a reverse run right around him.
Here #3 Batiste is split out wide with WV in a wide open spread formation. Here he almost acts as a 3rd corner, so with base 3-4 personnel, they can achieve a nickel look (1 deep safety, 2 corners, 1 safety up on the slot receiver, and Batiste on a H-Back split wide)
The main pass rushing threat for the Panthers is LB Jarrell Robinson (#46), 6-2, 215. He has only racked up 2 sacks thus far, and 3 TFLs. But when Batiste backs off into coverage, expect Robinson to be coming the other way. GSU likes to disguise blitzes, blitz corners, and delay and stunt LB blitzes, so despite being undersized, many times this season the pass rush has affected plays. While they don't get the sack numbers, they do force early throws and get hits on the signal caller. This held true in their lone contest against FBS competition against West Virginia, as well. While it may or may not be a little farfetched to compare West Virginia's pass protection against Bama's, don't be surprised to see some Panthers in McCarron's face from time to time on Saturday. The following series of images illustrates how a disguised blitz can affect a play.
Here you see the set up. WV is in a 3rd and 6 on the Panthers 25 yard line. GSU comes out in a Nickel defense, with Batiste (3), a typical OLB, at Mike (MLB). They attempt to show pressure coming from the back side (top), with the DE and Will (WLB) both showing blitz.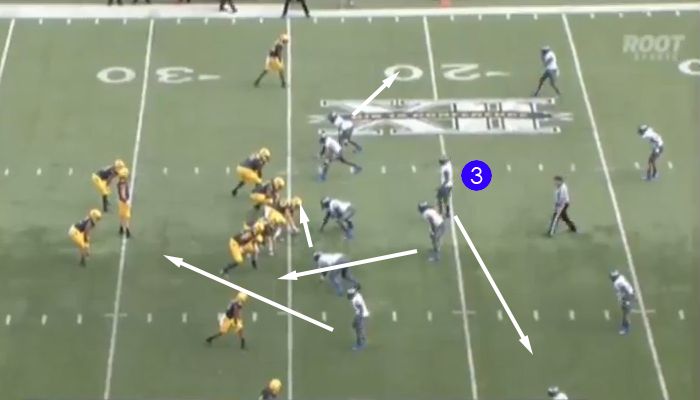 In actuality, the pressure will be coming from the play side (bottom). As you see here, the playside DE (DE in previous image) crashes down toward the center, trying to encourage the RT to follow him down. The SAM Linebacker will run right over the vacated spot of the DE, hopefully with no RT to worry about. Also, the corner on the slot receiver will blitz from this same side, making the play side back the only hope against two pass rushers.
You can see the play worked as the defense expected. The RT followed the DE inside, freeing up space for both the CB and SAM to charge the QB uncontested. The back moves out to the flat expecting a dump, but Batiste (3) is moving that way. In the end the QB was rushed into a quick attempt for a wide out curl, which was incomplete. This is just one of the examples of ways Georgia State will attempt to disguise pressure and affect the QB.
Up front on D for the Panthers, it's the same story as elsewhere. They are anchored by Nose Tackle Terrance Woodard, a senior at 6-4, 295. Next to Woodard at DE is Theo Agnew (92) who has a good motor and is the most disruptive of the Defensive Linemen, with 20 tackles and a tackle for loss so far this season. Again, he is undersized for a 3-4 DE at 6-4, 280, at least by Nick Saban standards. Against Alabama's large OL, this will be a repeat of many of the games against a lower level of play. The key challenge will be containing the Georgia State speed at DL and LB, with the Alabama Offensive Line built to stop a much larger opponent. That said, expect the inside running game to find success. Chattanooga gashed this defense for 401 yards on the ground, and if Alabama finds itself in the position of having a sizeable lead, there will be ample opportunities for the Tide to reach that mark.
While it is hard to write off any opponent, especially after the struggles that Alabama had against Colorado State, this Georgia State team is just not to the point where they can realistically challenge the college football elite. I would expect that Colorado State would be a heavy favorite against the Panthers. This game will give Alabama a chance to work on blocking schemes, and should give many players an opportunity to play.