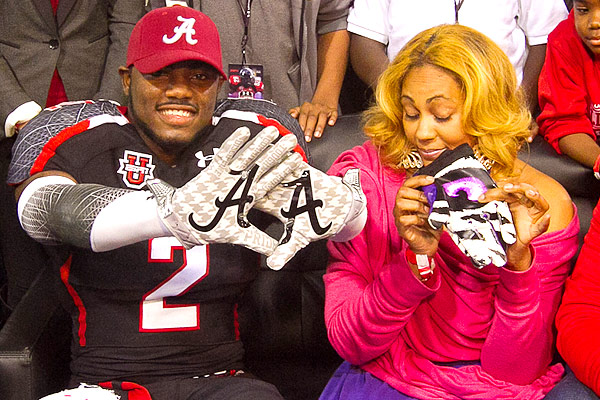 (Photo Credit: David De Pas ESPN.COM) April Justin looks on without approval as her son, five-star Safety prospect Landon Collins elects to accept an athletic scholarship offer to attend the University of Alabama over Louisiana State University.
There was the hype. A five-star, multi-tooled athlete out of Dutchtown High in Geismar, Louisiana. He was hard-hitting and ball-hawking in the mold of future NFL first-rounder, and entrenched Alabama Crimson Tide Safety Mark Barron.
There were the headlines. Collins' mother, April Justin was less than enthused with her son's decision to matriculate at a university not in her personal backyard, and not adorned in the colors of purple and gold infused by the grass-eating antics of its wildly successful yet much maligned recruiting savant, Les Miles.
Through the turbulence that erupted from a mother's preference over a son's eventual destination, what may have been lost in the proverbial shuffle would be that Alabama's Football Dynasty grew fantastically stronger with the recruitment of one of its most beneficial back-end defensive specialists. A player both imposing at the point of contact, and graceful in every foot race, with a nose for an airborne pigskin and mental approach to make an early impact.
As noted by Nick Sellers of "The Crimson White" from a Nick Saban press conference on August 26, 2013: "Now he's finally comfortable and confident in what he's supposed to do, and he's played here really well," Saban said. "He's definitely going to have a role in dime situations. I think he's one of our best safeties as well."
"One of our best safeties," may be an integral phrase uttered by Coach Nick Saban. With the departure of Vinnie Sunseri due to a season ending knee injury, one would think the Tide would be left reeling. Sunseri, the emotional leader of an Alabama defense that was just starting to gain its dominant traction as a collective unit, returning 16 integral pieces from a "rebuilding" 2012 squad, had to be replaced. Step-in: Landon Collins.
Groomed already as a successor to Sunseri, Collins may exceed his predecessor in every physical attribute when taking the field. Sunseri's ability to overachieve is well known among the Crimson Tide faithful. Much viewed as the Alabama version of Ray Lewis, it's Sunseri's ability to lead, to be technically sound, to anticipate offensive schemes by being ultimately prepared for each opponent. Such intangibles compensate for the lack of physical tools visibly present in the teammates surrounding Sunseri on the field.
Consequently, these attributes seem not to be lost on Collins. In his first full game as a defensive starter, Collins managed to win SEC Defensive Player of The Week honors with an 89-yard interception return for a touchdown and six tackles in Alabama's 45-10 drubbing of Tennessee (via AL.COM http://www.al.com/alabamafootball/index.ssf/2013/10/alabama_safety_landon_collins_1.html).
To say that Collins has filled the void left by Sunseri after one game may be a premature assessment. For all that's been made of the Sophomores physical talents, fail not to realize, Collins is a player as involved on a preparatory level as Sunseri. Once the physical tools meld with the mental approach Coach Saban praises in Collins to its fullest potential, the Tide Nation just may be witnessing one of their biggest stars in the making.
What say you? Leave your feedback in the comments section below: