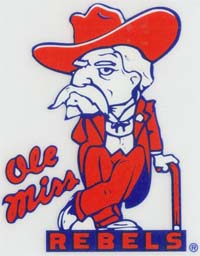 They can ban Colonel Reb all they want, but you know he's the first thing you think of when you hear Ole Miss.  Well, that and hot chicks...
Satuday's game features the Tide taking on the Ole Miss Rebels.  Alabama holds a decisive 42-9-2 lead in the series, with the only loss in Tuscaloosa occuring in 1988.  This season's Rebel team stands at 2-4 with close wins over Memphis (1-4) and Vanderbilt (2-4).
On Offense:
The two biggest weapons the Rebels can place on the field are QB Brent Schaeffer and RB BenJarvus Green-Ellis.  
As a passer, Schaeffer isn't much to look at.  He's 55-122 (45.1%) on the season for 924 yds, 4 TDs, and 8 interceptions.  It's his abilities as a rusher that makes him dangerous for an Alabama defense that seemed either unwilling or unable to contain the rushing attack of the Duke Blue Devils.  Schaeffer has rushed 60 times for 219 yards (3.7 ypc) and 1 TD so far this season, and has no qualms about pulling the ball down and scrambling if there's no one open (or if he just feels like it, apparently).  He's also taken 15 sacks by scrambling so often, so hopefully we won't be seeing any more articles like this one in the coming weeks.
BenJarvus Green-Ellis currently leads all SEC running backs with 571 yards on the season (121 carries, 4.7 ypc, 4 TDs).  His best game was the loss to Georgia where he rushed 24 times for 135 yards (5.6 ypc) against a stout UGA run defense that's giving up an average of 102.5 yards per game.  Bama is currently giving up 121.8 on average.
On Defense:
The biggest name on the Ole Miss defense is LB Patrick Willis.  Willis leads the SEC in tackles with 62 (10.3 tackles per game) on the season and has now recorded 10 or more tackles in 12 of his last 14 games.  He's on the watch list for the Butkus Award, and is considered one of the top linebackers in the country.  Also with him in the linebacking corp is the reigning SEC Defensive Player of the Week Rory Johnson.  Johnson recorded 16 total tackles (9 solo) in the win over Vandy, and also forced three fumbles while recovering two.  
Overall:
The Ole Miss Rebels are pretty bad.  They rank 11th in the SEC in total offense, 11th in scoring offense, 12th in passing offense, 11th in total defense, 10th in scoring defense, 9th in passing defense, and 11th in rushing defense.  The only category in which they rank in the top half of the conference is rushing offense where they rank 5th which is, sadly, one step ahead of our own beloved Tide.  Alabama is a 14.5 point favorite over the Rebels, and hopefully the nail biter against Duke was the wake up call this Alabama team needed to get serious and start playing some Alabama Football again.