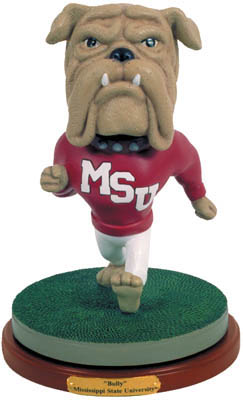 ...bobble, bobble, bobble...
Game Notes:

Saturday's game will be the first morning start time for the Tide this season. Kick off is at 11:30 am and will be on Lincoln Financial.
Saturday marks the 91st meeting between Alabama (6-3) and Mississippi State (2-7).  Bama leads the series 71-16-3.
Alabama, despite disappointing losses to Arkansas, Florida, and UT, are 6-0 at Bryant-Denny, and face only one serious challenge at home when Auburn comes to town Nov. 18th.
State has managed to lose 23 straight conference road games.  Their last conference road win was a 35-17 win over Kentucky on Nov. 4, 2000.  MSU has also lost 18 consecutive SEC West road games.  Their last road win over a western division team was at Auburn in '99.
The Bulldog Offense:
Is not terribly good, though not terribly worse than Bama's.  MSU ranks 11th in the conference in scoring offense (Bama, 8th), 7th in pass offense (Bama, 6th), 12th in rush offense (Bama, 7th, and 11th in total offense (Bama, 7th).  The Bulldogs come to T-town missing several injured starters, including the entire starting backfield and wideout/part time QB Omar Connor.  Initial starting QB Michael Henig returned last week against Kentucky after breaking a collarbone in the season opener, and looked sharp going 22 of 41 for 384 yards and three touchdowns.  The other notable weapon on offense for the Bulldogs is wideout Tony Burks.  Last week against Kentucky he caught seven passes for 192 yards and two TDs.

Tony Burks in action.
The Bulldog Defense:
What started out as a stregth for the Bulldogs has become somewhat of a liability in the past few weeks.  MSU ranks 11th in the conference in scoring defense, giving up an average of 27.2 points per game.  The rest of their defensive game is fairly lackluster as well, ranking higher than 10th in rushing defense only (where they rank 6th).  The two biggest stars on the defensive side of the ball are linebacker Quinton Culberson (3rd in the league with an average of 8.7 tackles per game)and lineman Titus Brown (7.5 tackles for a loss in the last five weeks).
Prediction:
While the Bulldog D isn't all that great, the Bama offense isn't either.  I imagine we'll wind up biting our nails again in the fourth before the defense makes a big enough play/stand to seal the deal.  Bama, 13-7.