Perhaps it is easy to insulate yourself in an environment where you can put 92,000+ fans in the stadium for a scrimmage, but when you look around the SEC a lot of schools are having trouble filling their stadiums.
Arkansas recently played Florida International in Fayetteville for homecoming. It was a snoozer game to be sure, but nevertheless attendance was very poor. "Official" attendance was listed at 60,750, but several called BS on that one. Most independent reports, however, only have attendance at around 50,000, and some had it below that. Obviously, getting only approximately 50,000 people in a stadium that holds 72,000 is a major disappointment. The following is a picture of the stadium shortly before kick-off:
Ole Miss, too, is struggling greatly to sell tickets. Last week against Northwestern State, the Ole Miss ticket office sold 20,000 tickets to the game for $5 each. There weren't many takers. Tickets were, according to reports, being given away on the Grove for free -- though there weren't many takers for those, either -- and "official" attendance was listed as only around 25,000 people despite the fact that Vaught-Hemingway, which was foolishly expanded in 2002, holds 62,000 fans. The Clarion-Ledger, and other outlets, actually had attendance estimates below that. The following is a picture of Vaught-Hemingway Stadium during the game this past weekend: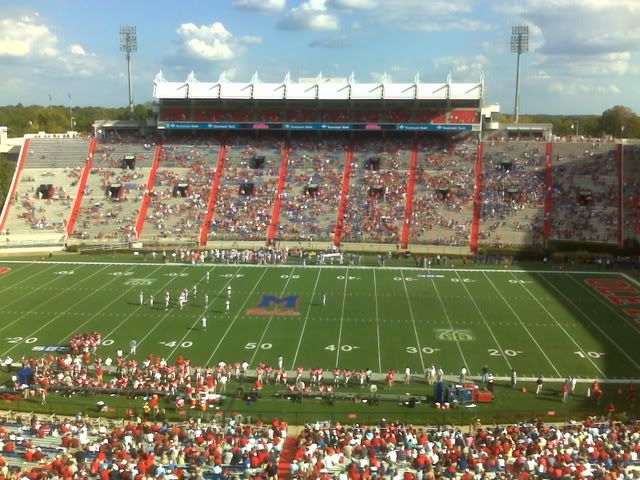 For the Rebels, things do not seem to be getting any better. Rival LSU is coming to town next week, and ticket sales are not picking up despite the rivalry and the fact that LSU is one of the country's top teams. Fortunately for the Rebels many LSU fans will come in and eat up most, if not all, of the extra tickets, but the point remains: they can't even sell tickets to their own fans when a highly-ranked rival is coming to town.
And it's not just the conference's smaller programs, either.
Tennessee's Neyland Stadium holds well over 100,000 people. Yet for last week's homecoming game against Louisiana-Lafayette, "official" attendance listed only barely 96,000 people there, and many estimated that there was somewhere in the neighborhood of 10,000 empty seats. And even though Tennessee currently controls its own destiny in the SEC East and has a key game this weekend against a suddenly hot Arkansas team, they still can't sell out. The UT ticket office announced on Monday that they would sell tickets to the public for face value for the Arkansas game, saying that the tickets were returned tickets from Arkansas and from UT students. Now answer me this: Exactly what in the hell is going on when you can't even sell student tickets when your team is playing at home for a shot to Atlanta against a team that sports the best individual player in the country?
Auburn, too, has struggled to fill the stadium. Even the season opener against a solid out-of-conference opponent (Kansas State) did not sell out. Over 1,000 seats went unfilled for the Wildcats. The following week, there were 5,000 empty seats for South Florida, another 5,000 for Vandy, and 2,000 more for Tennessee Tech. The Iron Bowl is really the only guaranteed sell-out on the slate.
Though fortunately we're not feeling the effects in Tuscaloosa, it seems that a lot of fellow SEC teams are finding it difficult to fill their stadiums.