Mal Moore has been a part of Alabama athletics since 1958 when many of us were still a twinkle in our father's (or grandfather's) eye. But now due to declining health, he is moving from Athletics Director to Special Assistant to the University President.
Moore has had some ups and downs as AD at the Capstone. "Ups" include the hiring of a guy from a little town in West Virginia to be the football coach and the amazing upgrades to the athletics facilities on campus. I am not just talking about the Taj Mahal of college football. Check out the amazing tennis facility, the softball stadium, and a women's soccer complex that would make most a lot of MLS teams jealous (were you even aware UA had a soccer team? Holy cow, check that place out!). The "Downs" include the hiring of some dogs named Dennis Franchione, Mike Price, and Mike Shula. But I digress from those horrid memories (tongue firmly planted in cheek).
The subject at hand is finding a new AD. Everyone has their opinions and we'd like to hear yours. But first, you are stuck with hearing mine.
~~~~~
Mama's callin':
For those of you with short memories or too darned young (get off my lawn, ya whipper-snappers!), Moore was endanger of losing his job as AD before he hitched his wagon to Saban's star. The popular replacement then AND now is former Bama All-American, Cleveland Browns All-Pro, and current Baltimore Ravens General Manager Ozzie Newsome. The guy is a living legend who has succeeded at every level he has ever been involved with - unlike some guys. Unfortunately for Tide fans that might be why he does not land in Tuscaloosa. He is one of the most respected GMs in the NFL with two Super Bowls as an executive in two different decades (XXXV in 2000-01, XLVII in 2012-13). He has been a part of the original Browns/Ravens as a player and executive since 1978. It would be REALLY difficult to pull the 57-year old out of such a plum job.
The Former AD-In-Waiting:
When former Alabama basketball player (under C.M. Newton) Dave Hart was hired as Executive Director of Athletics at Alabama in 2008, it was thought that he would be the AD-in-waiting for the aging Moore. However, in 2011 his patience ran out and he took the top athletic job at Tennessee - a thankless job inherited from the unpopular Mike Hamilton. Hart has not exactly wowed anyone in Knoxville. The wisdom of his first real test in hiring Butch Jones as the football coach is yet to be determined but the skeptics are plentiful. Reports are that Jones may have been a Plan E or F after such candidates as Jon Gruden, Mike Gundy, Charlie Strong, and Larry Fedora all turned him down. Is he ready for the heat of Tuscaloosa?
The Lieutenant:
Shane Lyons was hired to replace Hart and took the title of Deputy Director of Athletics/Chief Operating Officer. He is a native of West Virginia and a graduate of West Virginia University. I am going to sound like a gump here but can an outsider really grasp what it take to be the top man at Alabama? A lot of what made Moore successful was his ability to get along with donors, glad-handing, and telling stories about Bear Bryant which led to donations needed to get the school to the level of where it is now. This gig is not just about hiring women's swimming assistant coaches and making sure the fields are mowed.
The Wild Card: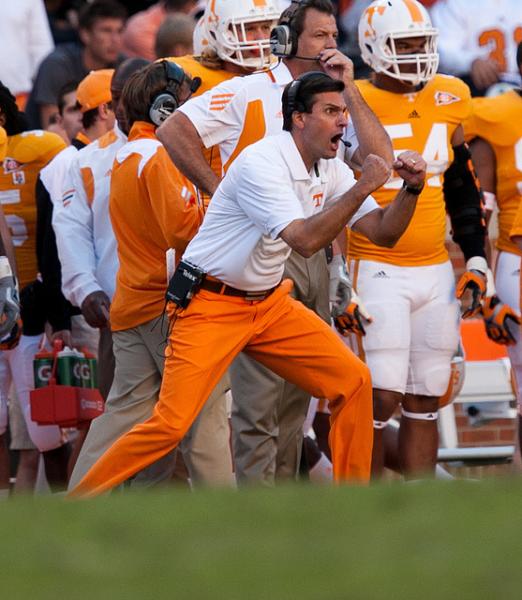 Okay, go ahead and start your scoffing. Yes, he wore the orange pants and, no, he is not an Alabama alumnus but I am throwing his hat into the ring. Why Derek Dooley? He has AD experience at La Tech 2008–10. He has SEC experience. He is smart, charming, and a Saban man.
Whoever it is, the next AD will need to be 1) a fund raiser, 2) appreciative and respectful of the traditions, 3) allow Nick Saban to do his thing, 4) a fan of the Tide (lip service need not apply).
Got a better candidate? Don't just vote the bottom option or shoot down my points. Let's hear your suggestions.