RB Derrick Henry has broken leg
"Derrick Henry suffered a fractured fibula in Saturday's scrimmage and had successful surgery this morning with Dr. Lyle Cain," coach Nick Saban said in a statement. "With the support of our medical staff and the hard work and dedication Derrick has shown since he arrived, we are confident that he will make a full recovery for the start of camp this fall."
Unfortunate news for the young star. It sounds like his injury and treatment is somewhat similar to what Kenny Bell experienced, so hopefully he'll be back in full force in time for fall camp. I've predicted in the past that Henry would be our third string back at worst, and while I'm not backing off of that just yet, this situation does potentially leave the door open for one of the three other star running backs signed in February to make an early splash. More than anything, I'm just upset that we will now have to wait until August at the earliest to see this guy run.
Additionally, the injury means we only have two scholarship backs for the scrimmage not wearing black jerseys. So, we'll either get an absurd pass-fest, or we'll see lots of Ben Howell (he's still here, right? RIGHT?)
Alabama defensive coordinator Kirby Smart's salary raised to $1.15 million, Nick Saban receives new bonus structure
Smart's new salary represents a $200k pay bump, and makes him the second highest paid assistant in the country, behind only Chad Morris ($1.3 million) of Clemson. Offensive Coordinator Nussmeier got a $90k raise, and all four assistants that stayed on from the 2012 staff saw their salaries bump up. Often, contract negotiations can be drawn out affairs, prone to quibbles and counteroffers, but given the ridiculous amount of success at Bama, only one line of negotiation need be spoken: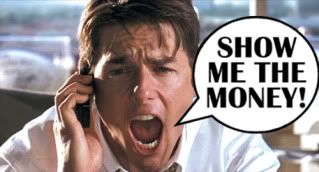 Sports Illustrated: SEC Players To Watch In 2013
QB AJ McCarron - Alabama

Alabama keeps on winning, and the ultra-composed McCarron is a major reason why. The Tide quarterback completed 67.2 percent of his passes for 2,933 yards and 30 touchdowns to lead 'Bama to a second consecutive national championship despite playing with bruised ribs for the latter half of the year. McCarron made a huge leap from a game-managing quarterback in 2011 to a lethal playmaker in 2012.
Three Bama players made this list - AJ, T.J. Yeldon, and C.J. Mosley. While I don't disagree with any of these selections, I find it hard to justify the exclusion of Amari Cooper for any reason other than "we can't have four Bama guys in the top 10". /homer'd
Elijah Shumate adjusting to new challenges
"That was a tough loss," Shumate said of the title game. "They came out and they played hard and they really beat us. They handed us a big loss. Before the game I didn't think they were any way better than us. They played better than us, they were the better team that night and I definitely think we have a great team and that we were young. And we're still kind of young, but we're getting better and we're learning, so I think we're just going to keep working. Hopefully we'll see them again."
Oh, now, son. There may be a lot of things you wish. That last thing isn't one of them.
Editable Comments are coming to SB Nation
Once this update is released later this week, when you post a comment you will then have 90 seconds to edit that comment. You'll see a countdown timer and a progress bar that scrolls from right to left indicating how much time you have left on the edit. Editing the comment does not reset the timer, but you can edit multiple times in the 90 second window.
Some changes are coming soon to the commenting system. You can read about them now, or just wait to be surprised and gripe about them later this week. Whichever way you decide to go, just remember that no matter where in he may be at any given time, it is always Todd's fault.