As the NFL draft draws near, Roll Bama Roll is attempting to provide some evaluative services to the teams that will soon come to know and love the players that have meant a great deal to the university.
Today, we'll be taking a look at a brutish offensive lineman that is as known for his unorthodox jersey preferences as his punishing playing style. Ladies and gentlemen - Chance Warmack: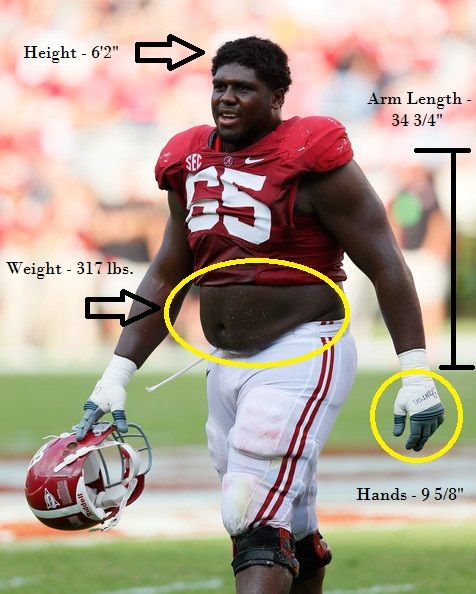 Strengths
Warmack is a big, powerful presence on the inside of the line. He gets out of his stance well, punches hard and can drive block for miles. He has good feet and obliterates guys at the second level. He generally keeps his feet moving, has good hands, and is a solid pass protector. That being said, he is clearly at his best when mauling somebody and paving the way for the run game.
Weaknesses
Warmack will occasionally stand too straight, sacrificing his leverage and making him susceptible to strong rushes. He also ran one of the worst 40 times of all the offensive linemen at the combine (only 3 players were slower). As I said, he generally has done a good job of getting to the next level and securing blocks, so I don't think the 40 times should really be that worrisome to whoever ends up with him.
College System
The Crimson Tide offense is a pro-style, one-back scheme, with a considerable emphasis on zone-heavy power running. Given the Tide's zone blocking tendencies, Warmack was not asked to pull much during his time in Tuscaloosa. That's not to say he's incapable, as he did fairly well the few times he was asked to pull. I think his good feet and quick burst should allow him to do fine at the next level, but there may be a bit of a learning curve due to his relative unfamiliarity.
Most Memorable Moment
I don't know that this would really qualify as his "most memorable moment", since it happened in a game Bama fans would probably like to forget, but Warmack's play on the first touchdown in the Texas A&M game is still fantastic. Here's a video of the play. On this play, he executes his responsibilities perfectly. Here's what the formation looked like at the start of the play:
At the snap, Warmack quickly hits the nose tackle for a spit-second double team with center Barrett Jones to seal the right edge of the lane.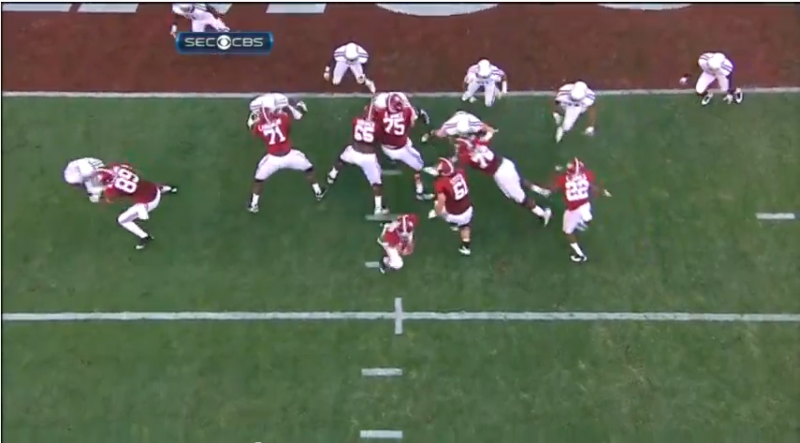 Almost immediately, he bounces off of that double team and engages the oncoming linebacker, blocking him back into the defensive end, effectively blocking two defenders out of the play.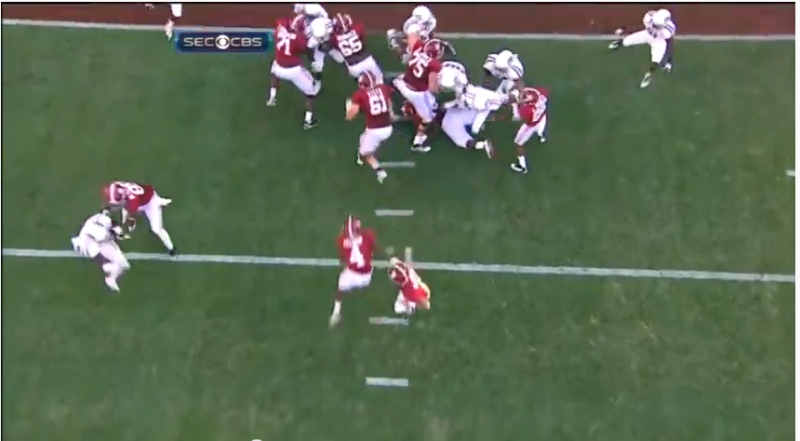 Warmack has both defenders moving backwards and away from the lane when pulling guard Steen comes to help finish them off.

The nose guard was able to get off of Barrett Jones' block and try to make a play on the running back, but by that time it was too little, too late, and the result was a fairly easy touchdown.
Miscellaneous
As alluded to above, Warmack has a penchant for wearing his uniform in an unconventional manner, pulled up to display his... intestinal fortitude. He embraced this quirky habit while at Bama, and even tried his hand at evangelizing the benefits of belly-baring to the masses, though it seems that it has not gained the traction he had hoped. Unfortunately for the fans of whichever team drafts him, the tummy touting teddy bear has been informed that he would likely be fined for his signature style.
Projected Landing Spot
Mock drafts have Warmack going as high as #7 to the Arizona Cardinals, or as low as #11 to the San Diego Chargers, with the #8 Buffalo Bills and the #10 Tennessee Titans being mentioned as possibilities as well. Reports over the last few weeks are that Warmack visited with Tennessee and the Titans were nothing but complimentary, so right now, it looks like that may be the most likely destination for Chance.