Eloquently speaking, the conclusion of the 2008 season can be summed up in no other way than by saying it was a thousand pound bag of suck. If I ever get my hands on one of those Men In Black mind eraser thingys the first memory I'm erasing is the 4th quarter against UF and the entire Utah game.
Perhaps I'm wrong in this assumption but it felt like the '08 'Bama team was one of destiny. After the utter dismantling of Clempson, the throttling of Georgia, the OT win at LSU, and 36-0 it just seemed like it was National Championship or bust. Mind you, the expectations didn't start that high but as the season progressed, so did our dreams. Unfortunately for Bama, this and this actually happened. (Yes, I am purposefully skipping over those games as I would rather not dig up old wounds, m'kay)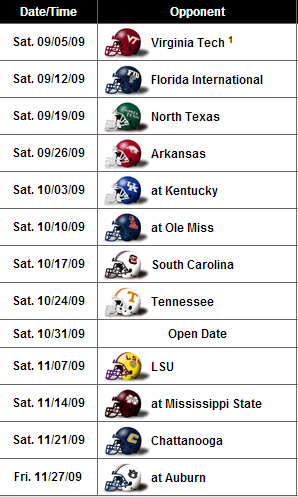 However, I believe that what doesn't kill you makes you stronger. And that the end of 2008 was a necessary evil that laid the groundwork for what transpired in 2009. Sometimes, you have to feel pain to receive joy.
Enter the 2009 off-season.
We all knew it; this team was loaded for bear and was looking for redemption. There were some question marks, especially on the O-line, QB and perhaps safety but after back to back #1 recruiting classes, there was finally depth and elite talent nearly at every position.
The schedule set up nicely as well with home games against Arkansas, South Carolina, Tennessee and LSU. The real test came in game #1 against #7 Virginia Tech. And with back-back patsy games against FIU and Noth Tejas, getting past the Hokies was of utmost importance. Literally, nothing else mattered. If you don't beat the Hokies, the season is likely over.
The Game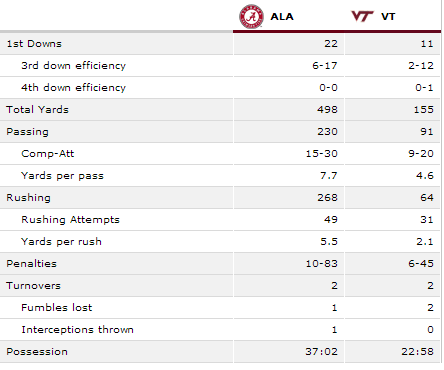 Oddly enough, thanks to plays like this, many remember the game as a thorough beat down where Va Tech was outmatched from the opening kick. But if you recall, thanks to a kick-off VT returned for a TD in the 1st quarter, Alabama actually trailed at half time. Also, many forget the two were only separated by 3 points with 9:22 left in the 4th quarter.
I don't blame people for their gump memory because if you were to look only at the post game stat line (or the highlights), you would have thought the final score would have read something closer to 40-0 rather than the reality of 34-24.
Much of the blame for the closer than expected score could be placed at the feet of the offense who failed to score TD's early in the game and instead kicked field goals (A recurring theme that seemed to haunt 'Bama for more than a few seasons). Regardless, 'Bama went on the road against a top 10 team and did what it needed to do to get the W. Now, with a strong showing under their belt, 'Bama was prepared to take on the "gauntlet" that would be the SEC regular season