Think about a world where Alabama wasn't in the South Eastern Conference. Yes, I understand this will probably never happen, hence why it's hypothetical. The SEC has built a mansion on the mountain top of the college football world and would certainly survive without Alabama. But what would this radical shift mean to Alabama, the SEC and college football as a whole?
How Would This Affect the SEC?
First off let me begin with the gumpiest statement you will ever read (this will probably make our rivals heads asplode)- In my opinion, Alabama IS the SEC (at least in football).
I know, gump hard my friends.
40-50 years ago the conference and probably the NCAA would hyperventilate at the very thought of Alabama leaving the SEC. But currently speaking, in the modern age of football, the SEC is a juggernaut and no longer needs Alabama but I don't believe Alabama necessarily needs the SEC.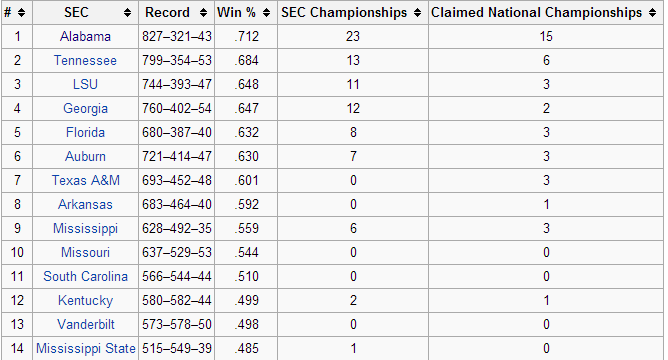 But how far off is that statement, that Alabama IS the SEC, and does it have any factual basis? Let's just take a quick glance at the history of the SEC and how Alabama has played a pivotal role in the conferences rise to power.
All stats found on SECsports.com and/or Wikipedia (yeah I'm lazy)
Of the 40 National Titles the SEC claims (yes claims), Alabama has 15. The next closest is Tennessee with 6.

Of the 83 SEC titles since 1933 (there were some shared titles before 1992), Alabama owns 23 of them. The next closest is Tennessee with 13.

Since 1992, only Florida has more appearances in the SEC Championship game (10) than Alabama (8)

Only Florida has more SEC Championships since 1992 (7) than Alabama (4).

Just to point out Florida only owns a total of 8 SEC titles to 'Bama's 23

.

During this current unprecedented run of consecutive National Titles for the SEC (7), Alabama owns 3 of them.

No other SEC team can boast more than 800 career wins (Alabama has 827; Tennessee at 799) or holds an above 70% career winning percentage. (Bama is alone at 71%)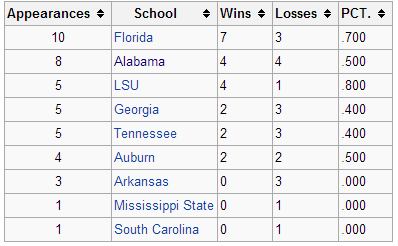 Clearly, Alabama is the King of the SEC. This is beyond reproach. You could even say we are the "Capstone" of the SEC. There are only a handful of teams who could bring with them the type of winning history Alabama possesses and the SEC would likely never be able to fill the void. Forget about the amount of money Alabama brings into the SEC on a yearly basis, the conference as a whole would no longer be able to tout Alabama's success as its own. (Sorry Vandy, Kentucky, Arkansas and USCe)
Would I be too much of a gump to state that without Alabama the SEC likely isn't the SEC we know today? It seems to me that the SEC was built on the back of Alabama's success. While our beloved Crimson Tide was winning its first 11 championships, 90% of the SEC was swimming in a sea of mediocrity.
Other fan bases have mocked 'Bama fans for living in the past but without our history, the SEC would look more like the ACC than what we see today. Sure, Tennessee and LSU both have a very strong history of winning but they simply do not hold as complete a body of work as Alabama.
Obviously, if Alabama left the SEC, the conference wouldn't just fold in on itself and crumble like an Auburn defense. But loss would undoubtedly be felt.
How Would This Affect Alabama?
First off, there would be a loss in revenue (obvious statement is obvious). But that is only assuming Alabama wouldn't be able to:
A) Find a conference that also has high football revenue or
B) Sign a TV contract with a network (like the Notre Dame contract with NBC)
Think about what it would mean if Alabama signed a TV contract with CBS or better yet, if it created its own Crimson Tide Network. Would Bama really see a drop in revenue? There's a strong chance it would actually increase.
Competitively speaking, if Alabama went independent, moved to the ACC or say the Big 12 there is no reason to believe it wouldn't be able to continue its current run of dominance (we are still working on that Saban never dying thing, right?) Both conferences are well below the SEC in overall strength and Alabama would be left with a much easier row to hoe. With the new college football playoff arriving soon, the thought of an easier conference schedule should make most gumps get a gumprection.
The one area that would most definitely hurt Alabama would be in the loss of its historic games against Tennessee and Auburn. The flip side is, again hypothetically speaking, neither of those teams have yearly games against non-conference opponents (though Auburn does play Clemson regularly) and it's likely that if 'Bama went independent, those yearly matchups could continue.
In the end, with conference realignment seemingly on hold and with the new SEC network, this will likely never happen. I believe if Alabama was ever going to make this move, it would have happened long ago. The fact is though, Alabama is likely the only SEC team who could seemingly survive out in the world all by its lonesome.
I welcome any SEC fan base to join in the discussion and make their points on how their team could possibly leave the SEC and still survive. So RBR, y'all be nice.