This week, as we continue our unit-specific breakdowns, we'll be focusing on the big uglies that make the Tide offense hum. We've already crowned the best running back and best linebacker in the Saban era, and now it is time to debate who is the best offensive lineman of the last six years. For all of the accolades heaped on the Crimson Tide defense, the offensive line has arguably been the most prolific unit on the team, both in terms of on-field results and in terms of NFL draft pick production (four first rounders in the past six drafts).
Before we get into the grading, we should discuss those that will be evaluated. For the purposes of the evaluation below, the following players were selected: James Carpenter, Barrett Jones, Andre Smith, and Chance Warmack. All of these guys excelled, as evidenced by the fact that all either won the Outland Trophy or were on the watch list. You may have noticed that there are a couple prominent names that didn't make the list for the evaluation, but those will be touched on in a bit.
What Makes a Quality Offensive Lineman?
Obviously, this is a bit of a difficult evaluation, since between the four players being evaluated, four different offensive line positions are represented. Different things are required based on the different positions, but we've tried to distill the basics of what makes up a great offensive lineman in the chart below. All grades are subjective, and are thus open to debate, but I've outlined my basic explanations below the chart. Now, onto the grading.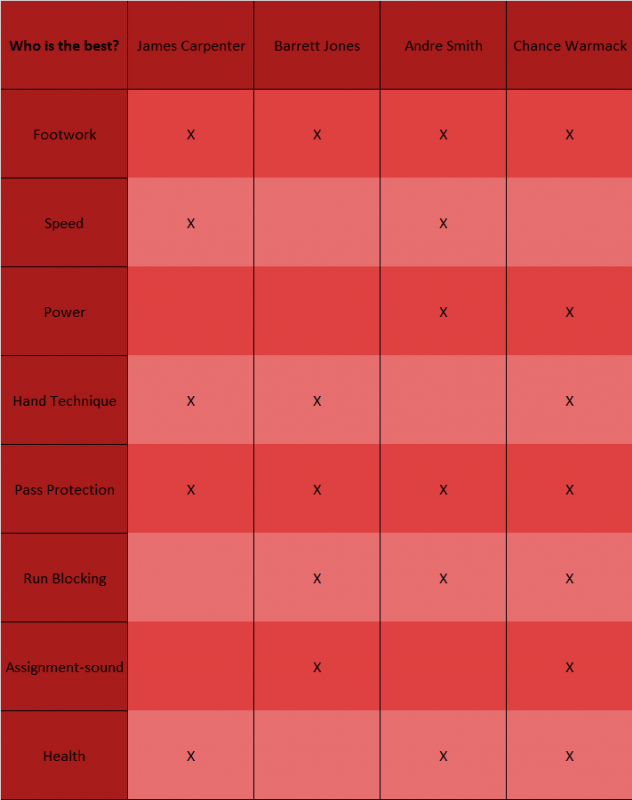 I think the best way to break these grades down is player by player, so let's start at the top:
James Carpenter - The knock on Carpenter coming out of college was that he wasn't dominant in the run game. He also struggled a bit with complicated blitzes, so he was docked for Power, Run Game, and Assignment-Sound.
Barrett Jones - Jones was nothing if not a master technician. Nobody was more technically sound that Barrett. Unfortunately, his exceptionalism in this area was the result of necessity, as he does not possess the physical gifts of the other men on this list. As such, Barrett was docked for Speed and Power. Barrett was also nicked up more than anybody on this list, and while he played through his injuries admirably, it was enough to warrant docking him for Health.
Andre Smith - Sugar Bowl snafu aside, Smith was an absolute specimen (suck on that sentence, Lou Holtz). Smith was a dominant blocker, but he would sometimes rely on his physical prowess and not be as technically sound with his hands as he could have been. He also was somewhat susceptible to the blitz and was thus docked for Hand Technique and Assignment-Sound. Side note: if versatility were a category, Smith would've gotten the mark, since he played in both a man-heavy and a zone-heavy scheme during his time on the Capstone. Barrett would've also gotten the mark for obvious reasons.
Chance Warmack - Warmack is not a man. He is an NFL exec's wet dream of an offensive guard brought to life. The only negative that can be said about him is that he isn't terribly fast, and in fact posted one of the worst 40-yard dash times at the most recent combine. He was thus docked for Speed.
The "Others"
As I alluded to earlier, there are a couple of additional names that probably deserve inclusion in the debate, namely D.J. Fluker and Cyrus Kouandjio. These two were excluded from the evaluations above for a couple of reasons. Fluker - while he is an absolute mountain of a man, he is technically the worst of the four (five including Kouandjio) other players being discussed. He ranks high on power and run blocking, but low on everything else (relative to the players under consideration). Kouandjio - may end up winning this discussion if we have it again next year, and has the potential to be the highest draft pick ever from Bama, but with really only one year under his belt, it seems a bit premature to crown him given the other available options. Despite these caveats, both players will be included in the poll below, so their place in the pantheon is up to the masses.
Stats
Nope. Try again next week.
Film
Here's a few highlight reels to help you down memory lane before you vote:
Barrett Jones:
Andre Smith:
Chance Warmack:
D.J. Fluker:
Who's The Best?
You already know the rules (THERE AREN'T ANY). Just as with the previous polls, we're not here to declare a favorite, but only to start the conversation and see who you guys think is the best. Be sure to chime in below to tell us why you voted the way you did.