In last week's poll, Barrett Jones edged out Chance Warmack as the best offensive lineman of the Saban era. This week, as we continue our unit specific breakdowns, we'll be taking a closer look at the bane of offenses everywhere - Saban's defensive backs. Saban has made his living by working with defensive backs, and his fingerprints are on that unit more than with any other unit on the team.
What Makes a Quality Defensive Back?
This evaluation will be fairly straightforward. After all, even the most novice of spectators can tell when a defensive back screws up. We've tried to distill the basics of what makes up a great defensive back in the chart below. All grades are subjective, and are thus open to debate, but I've outlined my basic explanations below the chart. Now, onto the grading.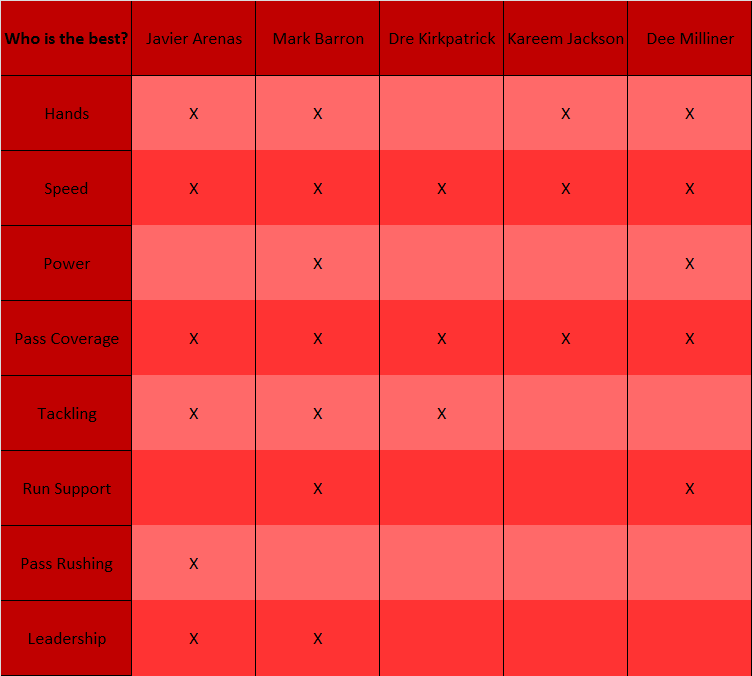 I think the best way to break these grades down is player by player, so let's start at the top:
Javier Arenas - The only knocks on Javy were related to the only thing out of his control - his height (or lack thereof). Javy was a bit undersized, and was docked for Power and Run Support accordingly. It should be noted, though, that while he lacked the power of others, he was a determined tackler and almost always got his man.
Mark Barron - When Barron went out for the draft, Mike Mayock said the best case scenario for him was "All-pro safety" and the worst case scenario was... "All-pro safety". There isn't a single thing that Barron lacks in his game. He was docked for Pass Rushing, but his lack of production was because rushing wasn't something he was asked to do often, and I'm certain he'd have been more than adequate if he had been asked to do it more.
Dre Kirkpatrick - Most over-hyped player of the Saban era? When Dre signed, I expected too much. I'm big enough to admit that. I really wanted three years of Patrick Peterson, and I never really felt like Dre lived up to the ridiculous standard I had set for him, despite what his incessant crowing on the field would lead you to believe. I really wanted to dock him for Tackling, since Dre's tackling style was very much a "home run/strike out" style where he would absolutely blow somebody up or miss terribly in trying to do so. But big hits are fun, so he keeps the point.
He never really filled out his frame, hence getting docked for Power and Run Support, and he only had three career interceptions, which got him docked in the Hands category. He wasn't really asked to rush the passer often either, and at this point in the evaluation, I think it's clear that that category was only included to highlight Javy's ridiculous skill in that department. Finally, Dre kicks off the "No Leadership Points" parade.
Kareem Jackson - I think that Kareem is the Yin to Dre's Yang. One of the biggest things I remember about Kareem is talking with some buddies about a game's highlights the week after and then slowly realizing that Kareem's name rarely came up, because nobody was even bothering to throw to his side of the field. As good as he was in coverage, though, he was not a terribly powerful defensive back, and occasionally struggled with wrapping up, which cost him marks in Tackling and Run Support. Like Dre, no points for Leadership, but he wasn't really asked to be the leader, either.
Dee Milliner - As a pure corner back in pass coverage, you'd be hard pressed to find any better than Dee. The only knock of substance on his grade sheet was for Tackling, since he did have a tendency to leave his feet often and dive at his target, often resulting in missed tackles.
Stats
Here are the career stats for the major categories (taken from cfbstats.com):
A couple things that need to be noted: 1) Dre, Kareem and Dee were three year players, Javy was a four year player that only registered meaningful stats in his last three years, and Mark Barron was a four year player. All of that needs to be factored in when comparing career stats. 2) Dee had 20 PBUs last year. Absurd.
Film
Here's a few highlight reels to help you down memory lane before you vote:
Javier Arenas:
Mark Barron:
Dre Kirkpatrick:
Kareem Jackson: Can't find a highlight video from his time at Bama, but here's a clip of him wrecking Percy Harvin:
Dee Milliner:
Who's The Best?
Just as with the previous polls, we're not here to declare a favorite, but only to start the conversation and see who you guys think the best is. Be sure to chime in below to tell us why you voted the way you did.