As always this is an addendum to balloons' Graphing the Tide vs. Auburn: all of the graphs, but nothing makes sense
Unfortunately I don't have anything to say about this game at this time other than Roll Tide and I am thankful that our guys were able to get themselves a win and I can ride their coattails and enjoy it too. Well except that scoring drives still required major success on 3rd/4th downs and the same for Auburn.
I haven't had time to fix my code to take care of the OT data so once we get to the two point conversions some graphs will have blank spots. The next two weeks are finals weeks. Once I have entered grades I will go back and work on my code for overtime and try to fix the automatic spacing in the Offensive drive annotated with downs. Note that OT starts with Drive 15 for Alabama and also for Auburn.
Alabama:
Alabama, 2021, wk13, Success rate by drive table vs Auburn
| Drive | Total | Successful | Unsuccessful | Success rate | Scoring drive |
| --- | --- | --- | --- | --- | --- |
| 1 | 3 | 0 | 3 | 0.0000000 | FALSE |
| 2 | 6 | 2 | 4 | 0.3333333 | FALSE |
| 3 | 3 | 1 | 2 | 0.3333333 | FALSE |
| 4 | 5 | 1 | 4 | 0.2000000 | FALSE |
| 5 | 3 | 0 | 3 | 0.0000000 | FALSE |
| 6 | 5 | 2 | 3 | 0.4000000 | FALSE |
| 7 | 5 | 1 | 4 | 0.2000000 | FALSE |
| 8 | 3 | 0 | 3 | 0.0000000 | FALSE |
| 9 | 4 | 1 | 3 | 0.2500000 | FALSE |
| 10 | 12 | 5 | 7 | 0.4166667 | FALSE |
| 11 | 7 | 3 | 4 | 0.4285714 | FALSE |
| 12 | 6 | 3 | 3 | 0.5000000 | FALSE |
| 13 | 7 | 3 | 4 | 0.4285714 | FALSE |
| 14 | 12 | 5 | 7 | 0.4166667 | TRUE |
| 15 | 5 | 3 | 2 | 0.6000000 | TRUE |
| 16 | 3 | 0 | 3 | 0.0000000 | FALSE |
| 17 | 1 | 0 | 1 | 0.0000000 | TRUE |
| 18 | 1 | 1 | 0 | 1.0000000 | TRUE |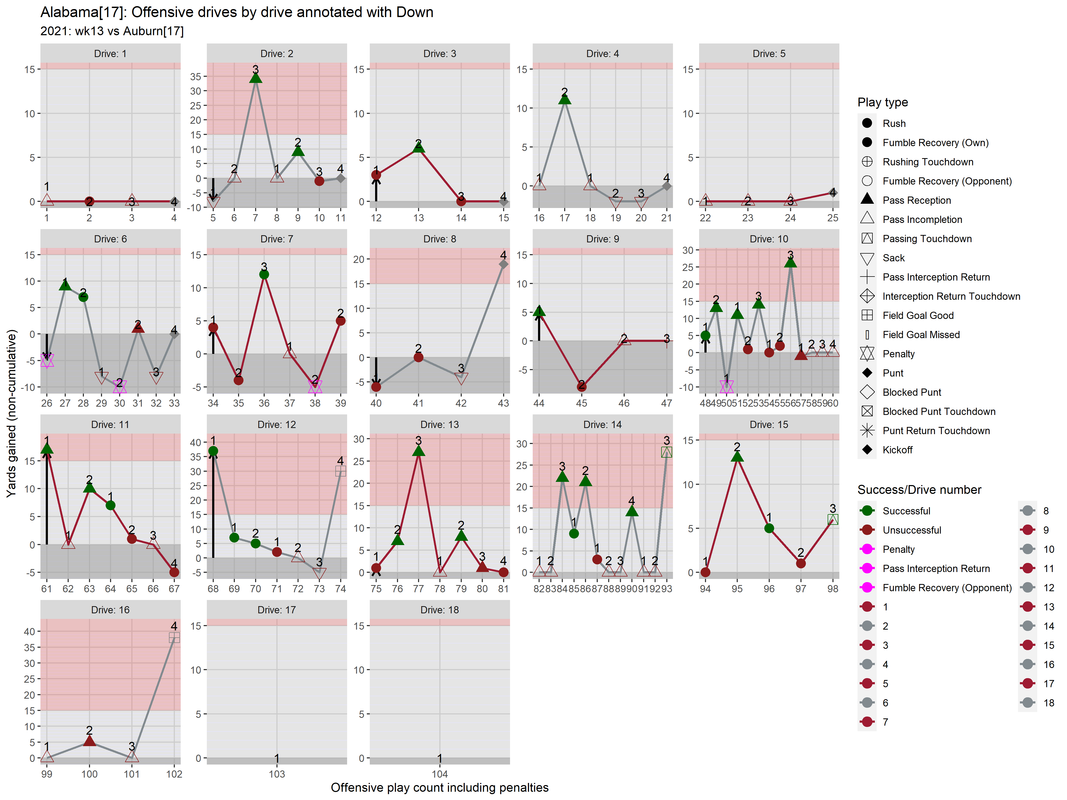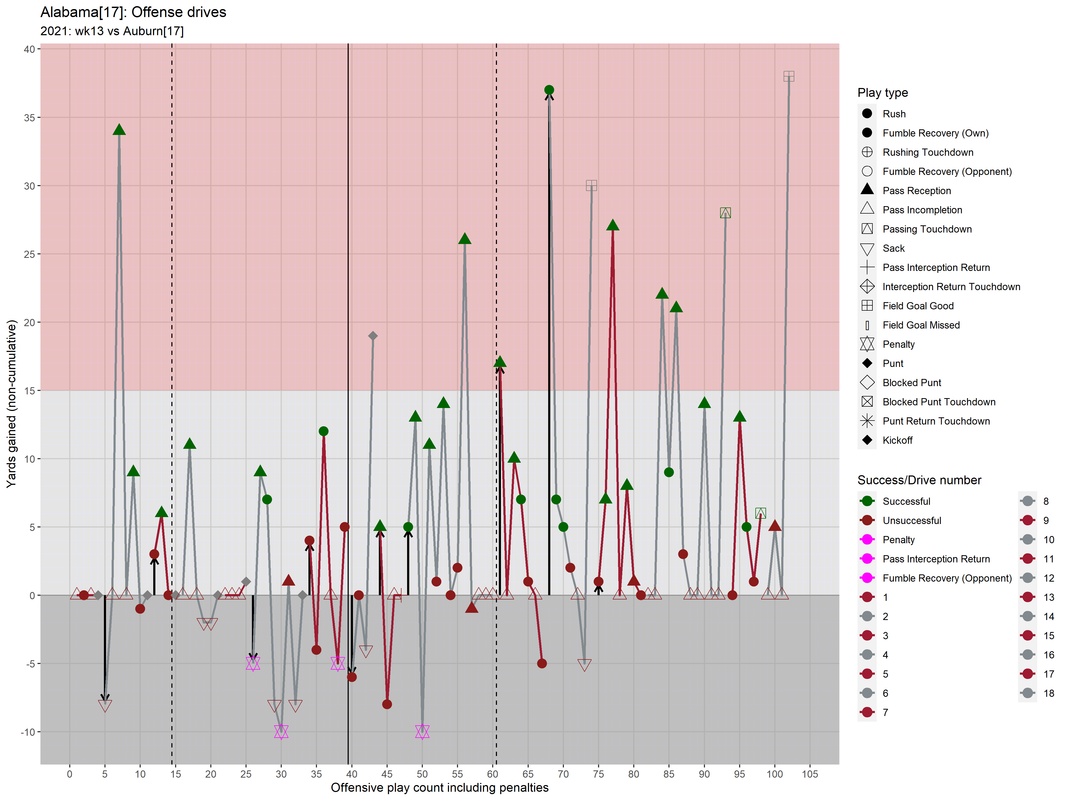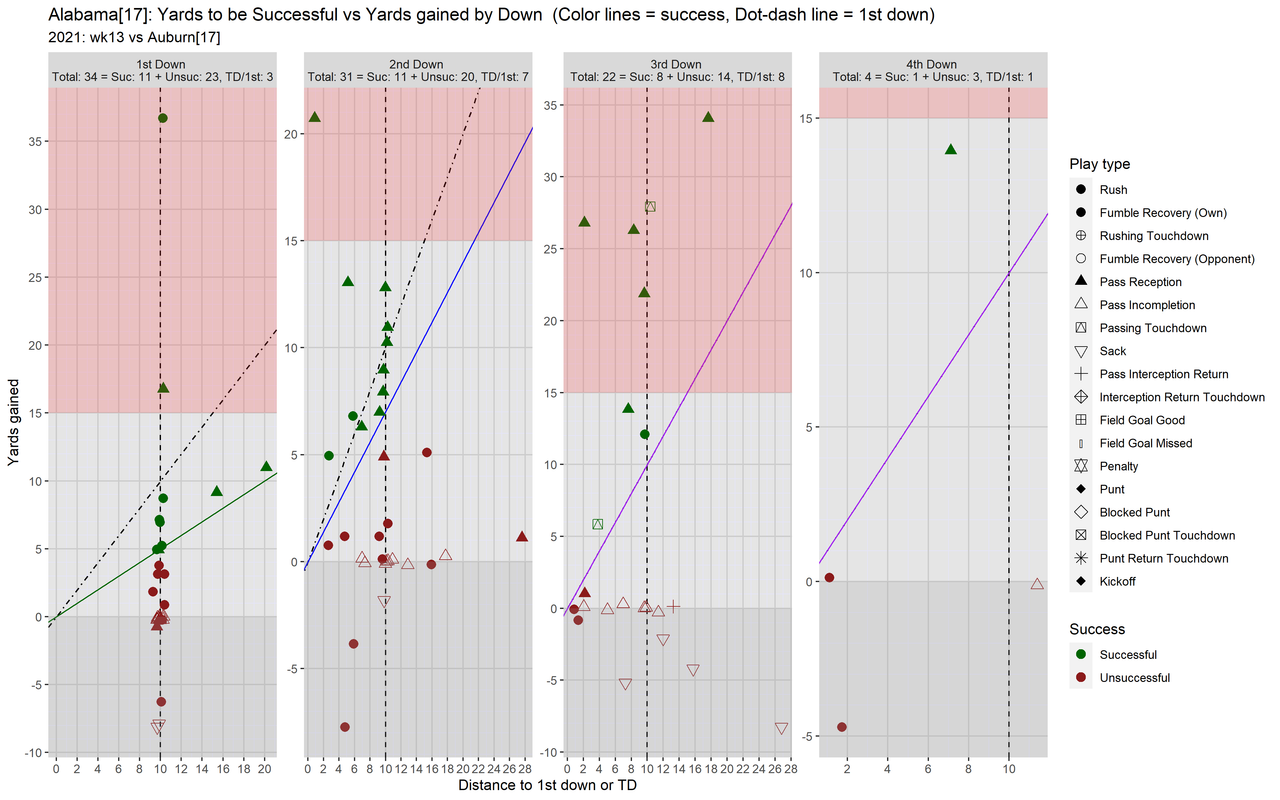 Alabama, 2021, wk13, Success by down table vs Auburn
| Down | Total | Successful | Unsuccessful | TD/1st |
| --- | --- | --- | --- | --- |
| 1 | 34 | 11 | 23 | 3 |
| 2 | 31 | 11 | 20 | 7 |
| 3 | 22 | 8 | 14 | 8 |
| 4 | 4 | 1 | 3 | 1 |
Auburn:
Auburn, 2021, wk13, Success rate by drive table vs Alabama
| Drive | Total | Successful | Unsuccessful | Success rate | Scoring drive |
| --- | --- | --- | --- | --- | --- |
| 1 | 3 | 0 | 3 | 0.0000000 | FALSE |
| 2 | 12 | 5 | 7 | 0.4166667 | FALSE |
| 3 | 5 | 1 | 4 | 0.2000000 | FALSE |
| 4 | 4 | 1 | 3 | 0.2500000 | FALSE |
| 5 | 3 | 0 | 3 | 0.0000000 | FALSE |
| 6 | 4 | 2 | 2 | 0.5000000 | TRUE |
| 7 | 3 | 0 | 3 | 0.0000000 | FALSE |
| 8 | 3 | 1 | 2 | 0.3333333 | FALSE |
| 9 | 5 | 2 | 3 | 0.4000000 | FALSE |
| 10 | 4 | 0 | 4 | 0.0000000 | FALSE |
| 11 | 1 | 0 | 1 | 0.0000000 | FALSE |
| 12 | 6 | 1 | 5 | 0.1666667 | FALSE |
| 13 | 3 | 1 | 2 | 0.3333333 | FALSE |
| 14 | 1 | 0 | 1 | 0.0000000 | FALSE |
| 15 | 6 | 3 | 3 | 0.5000000 | TRUE |
| 16 | 3 | 0 | 3 | 0.0000000 | FALSE |
| 17 | 1 | 1 | 0 | 1.0000000 | TRUE |
| 18 | 1 | 0 | 1 | 0.0000000 | FALSE |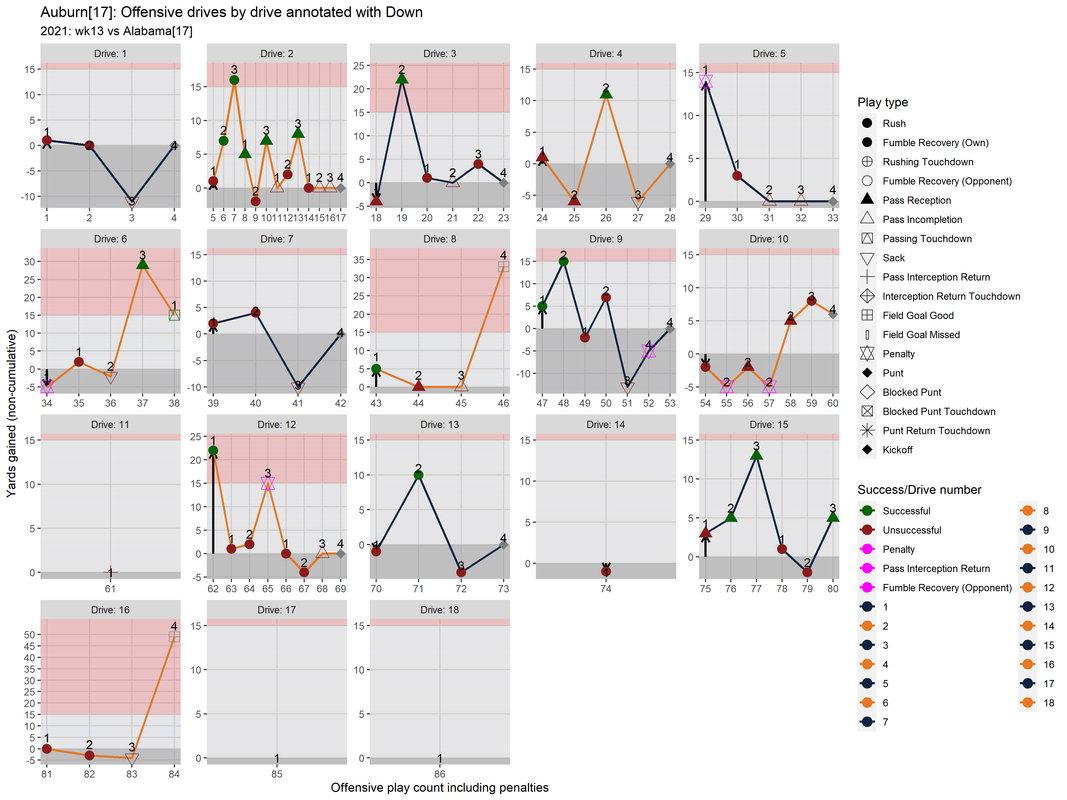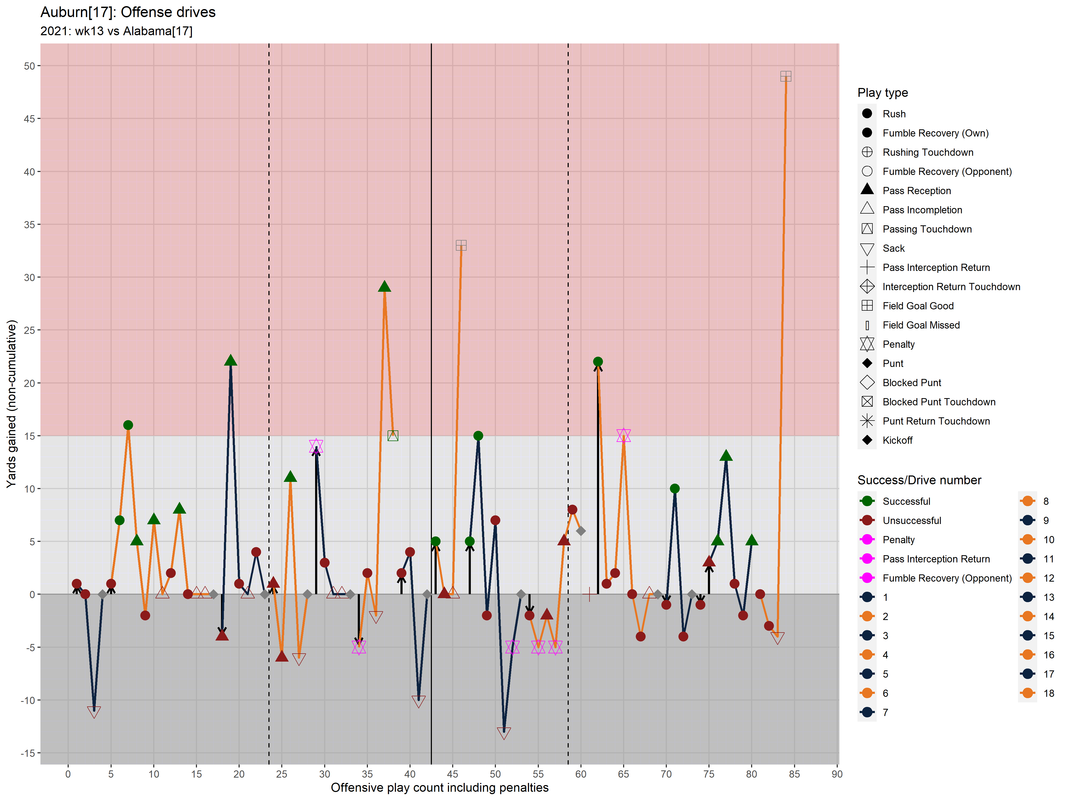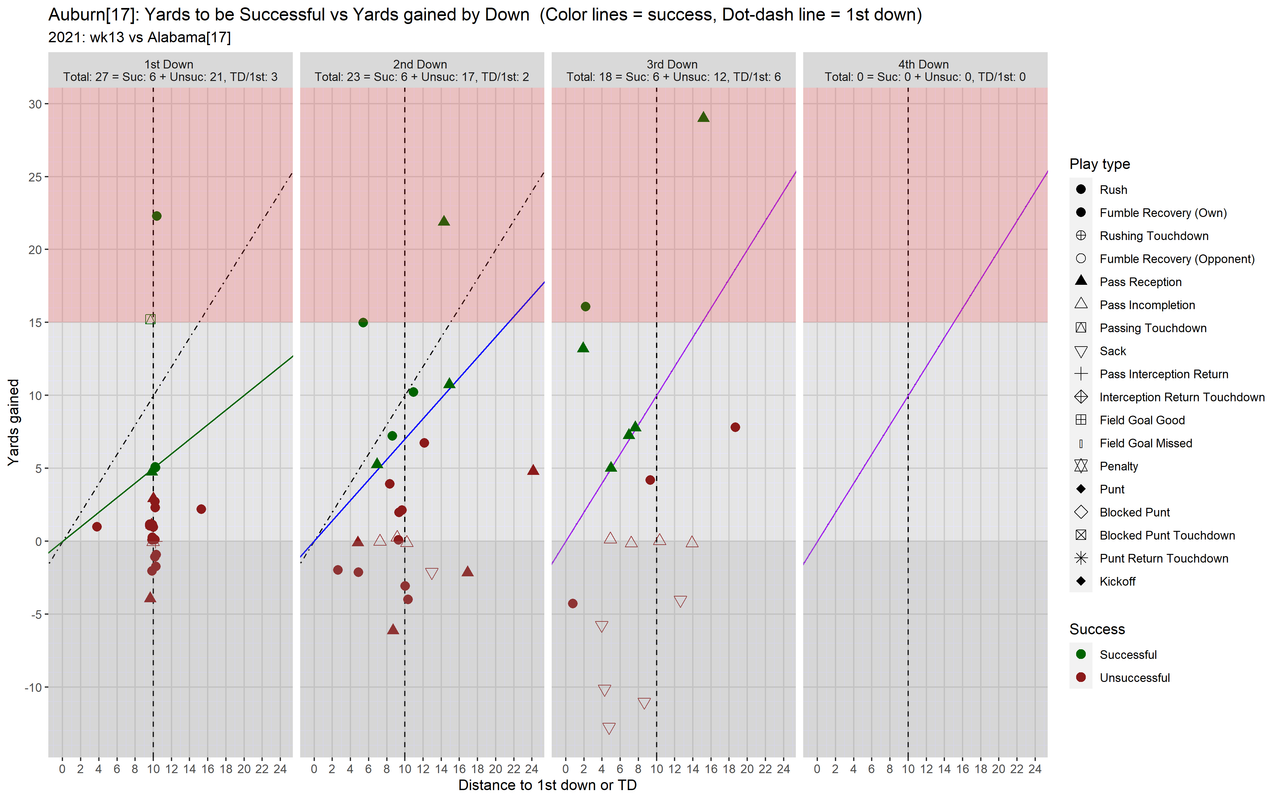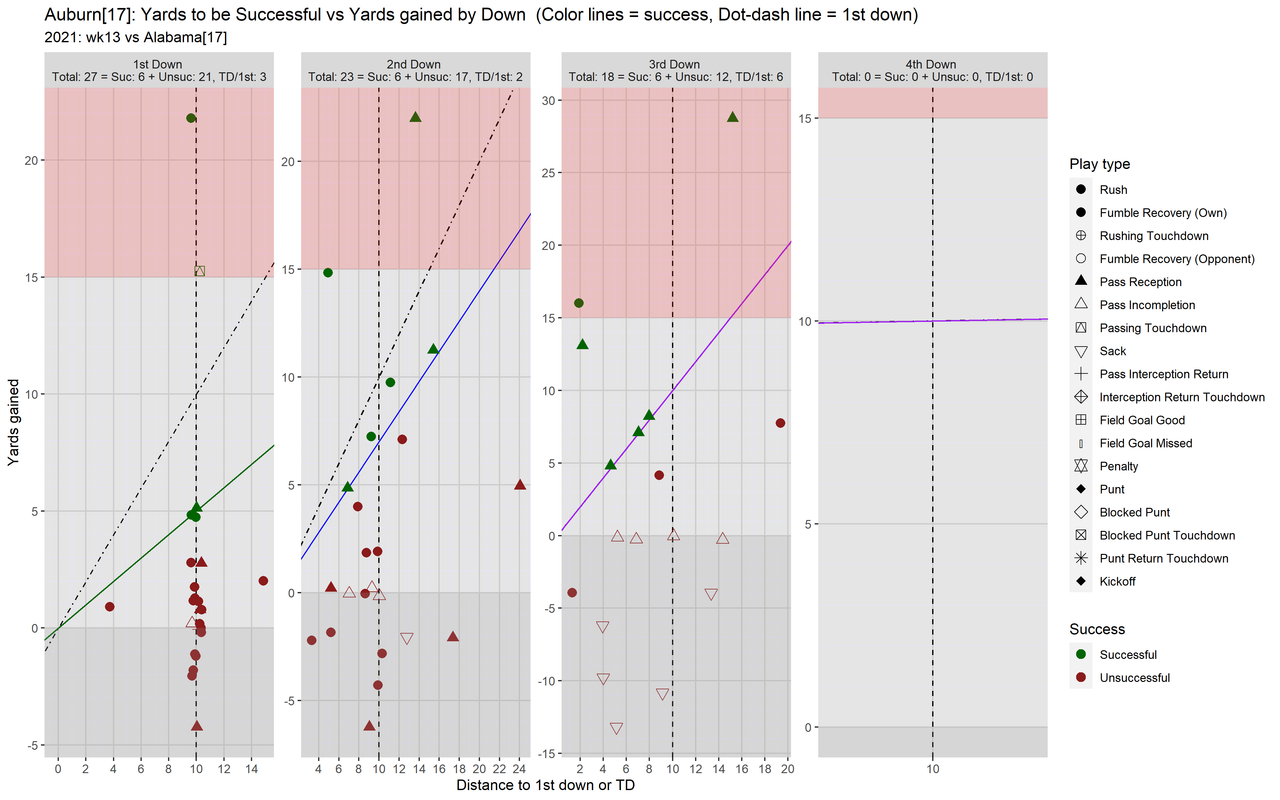 Auburn, 2021, wk13, Success by down table vs Alabama
| Down | Total | Successful | Unsuccessful | TD/1st |
| --- | --- | --- | --- | --- |
| 1 | 27 | 6 | 21 | 3 |
| 2 | 23 | 6 | 17 | 2 |
| 3 | 18 | 6 | 12 | 6 |
| 4 | 0 | 0 | 0 | 0 |