balloons' Graphing the Tide/All the Graphs posts inspired me to look at our game data and I posted some graphs that I thought might be interesting. He and krnxprs also made some suggestions on graphs they thought would be interesting. I produced those and a couple of others because I misread what they were asking for, but I decided to present them anyway. balloons encouraged me to start posting them in the comment section of his All the Graphs/Graphing the Tide articles and I will do this. But after I was able to automate some of the work to produce these graphs I though it might be interesting to have some graphs from a previous season (or two) to help understand them and see if they correspond to success on the playing field.
I have run both the 2019 and 2020 seasons as well as the first four weeks of this season (or however many there are by the time I get this posted). I am still working on fixing special cases in the data so if you notice anything that looks odd let me know. Unfortunately I will have to post images so they won't automatically scale like balloons' graphs, but they are linked to the images so you can download them if nothing else and get a better view. Any and all comments are welcome. If you think any of the graphs are getting too busy, distracting colors, etc let me know and I will see what if anything I can/should do. Hope you enjoy the graphs.
PS I got some time and split this post into three, one for each year.
2019
Alabama vs Duke
Alabama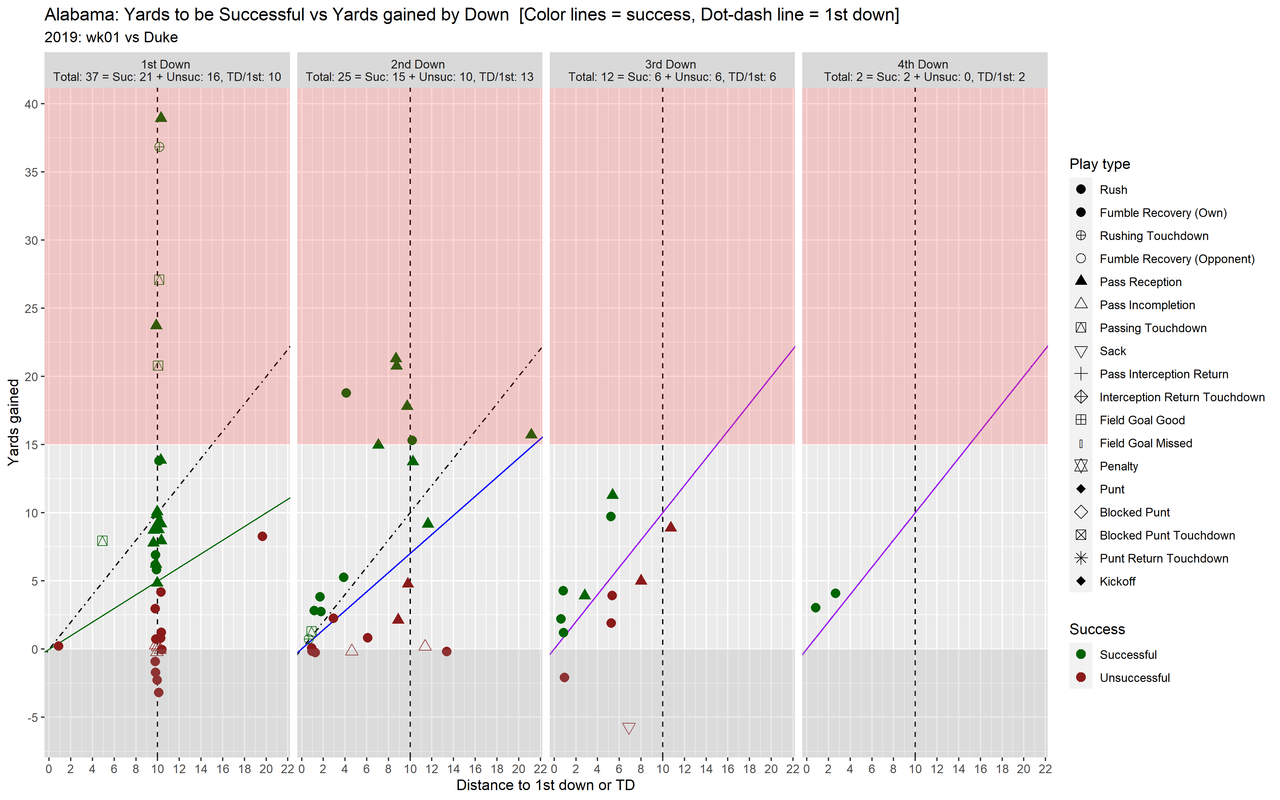 Alabama, 2019, wk01, Success table vs Duke
| Down | Total | Successful | Unsuccessful | TD/1st |
| --- | --- | --- | --- | --- |
| 1 | 37 | 21 | 16 | 10 |
| 2 | 25 | 15 | 10 | 13 |
| 3 | 12 | 6 | 6 | 6 |
| 4 | 2 | 2 | 0 | 2 |
Duke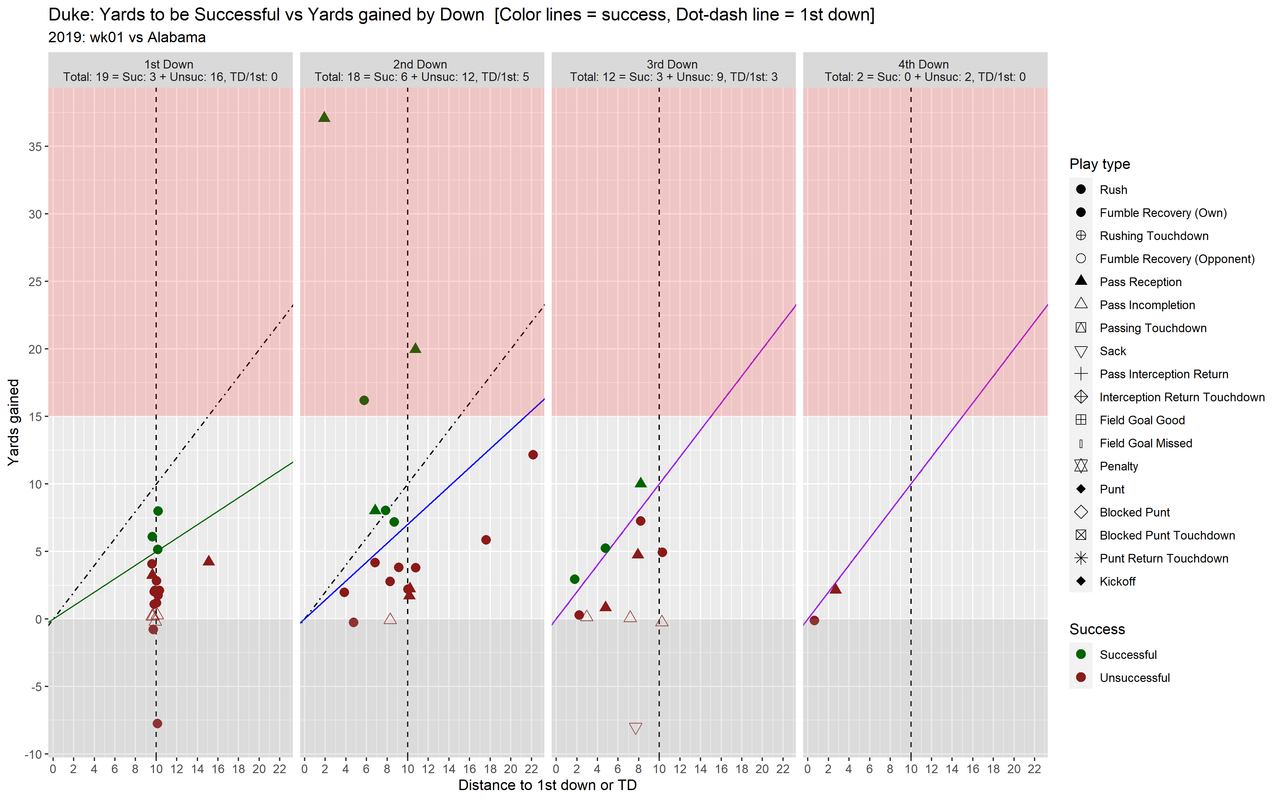 Duke, 2019, wk01, Success table vs Alabama
| Down | Total | Successful | Unsuccessful | TD/1st |
| --- | --- | --- | --- | --- |
| 1 | 19 | 3 | 16 | 0 |
| 2 | 18 | 6 | 12 | 5 |
| 3 | 12 | 3 | 9 | 3 |
| 4 | 2 | 0 | 2 | 0 |
Alabama vs New Mexico State
Alabama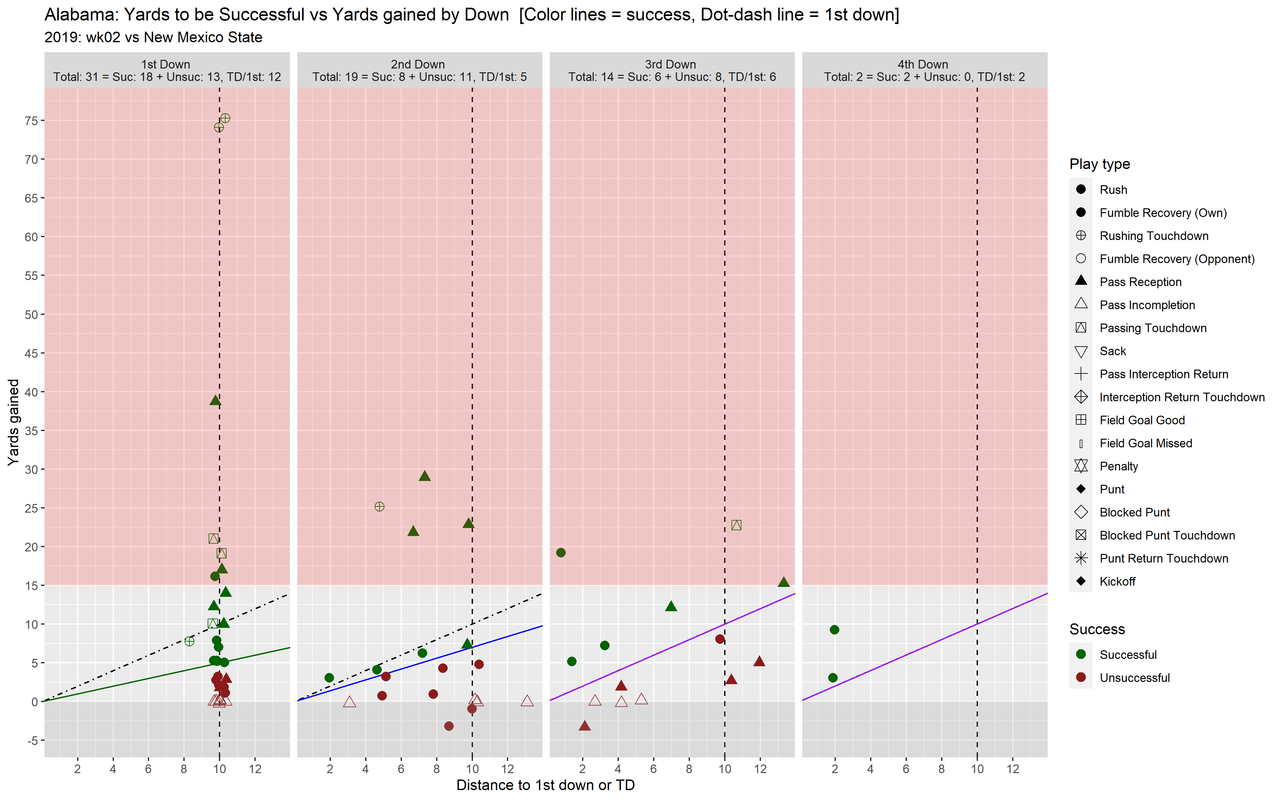 Alabama, 2019, wk02, Success table vs New Mexico State
| Down | Total | Successful | Unsuccessful | TD/1st |
| --- | --- | --- | --- | --- |
| 1 | 31 | 18 | 13 | 12 |
| 2 | 19 | 8 | 11 | 5 |
| 3 | 14 | 6 | 8 | 6 |
| 4 | 2 | 2 | 0 | 2 |
New Mexico State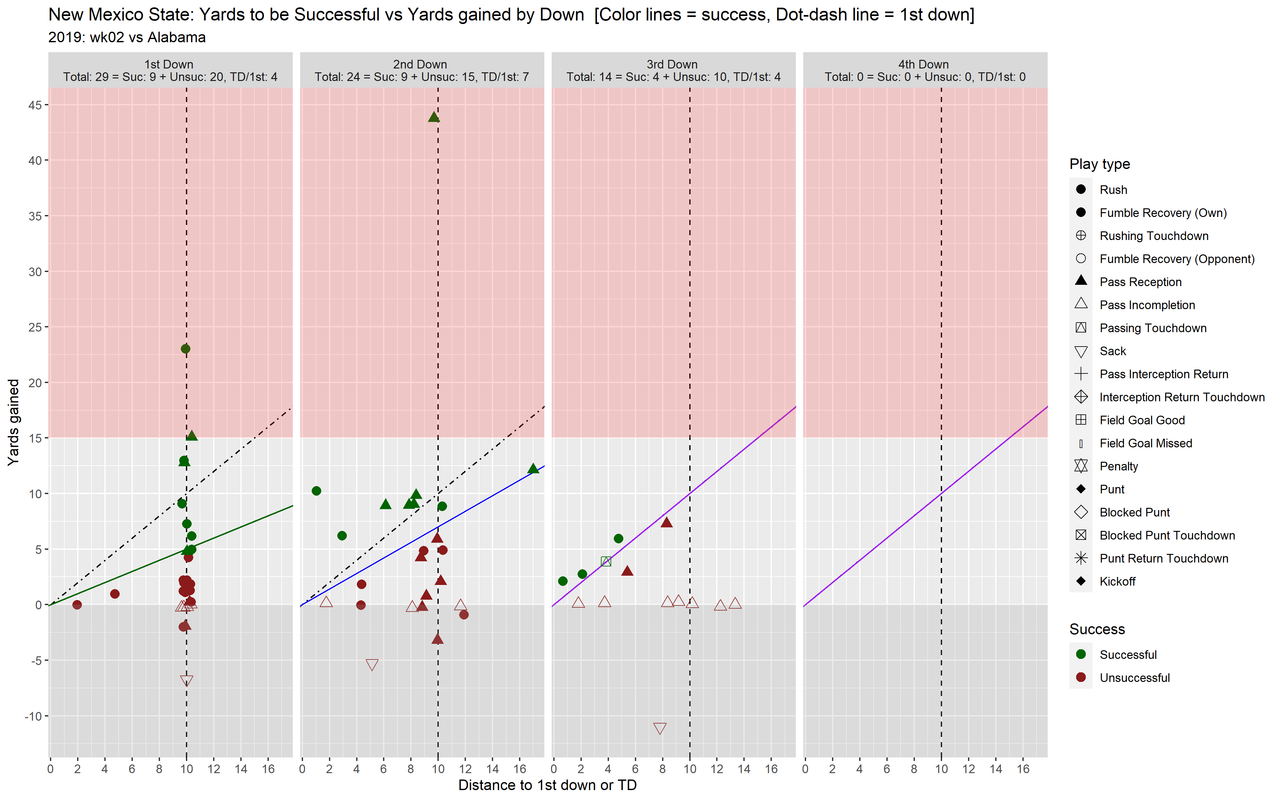 New Mexico State, 2019, wk02, Success table vs Alabama
| Down | Total | Successful | Unsuccessful | TD/1st |
| --- | --- | --- | --- | --- |
| 1 | 29 | 9 | 20 | 4 |
| 2 | 24 | 9 | 15 | 7 |
| 3 | 14 | 4 | 10 | 4 |
| 4 | 0 | 0 | 0 | 0 |
Alabama vs South Carolina
Alabama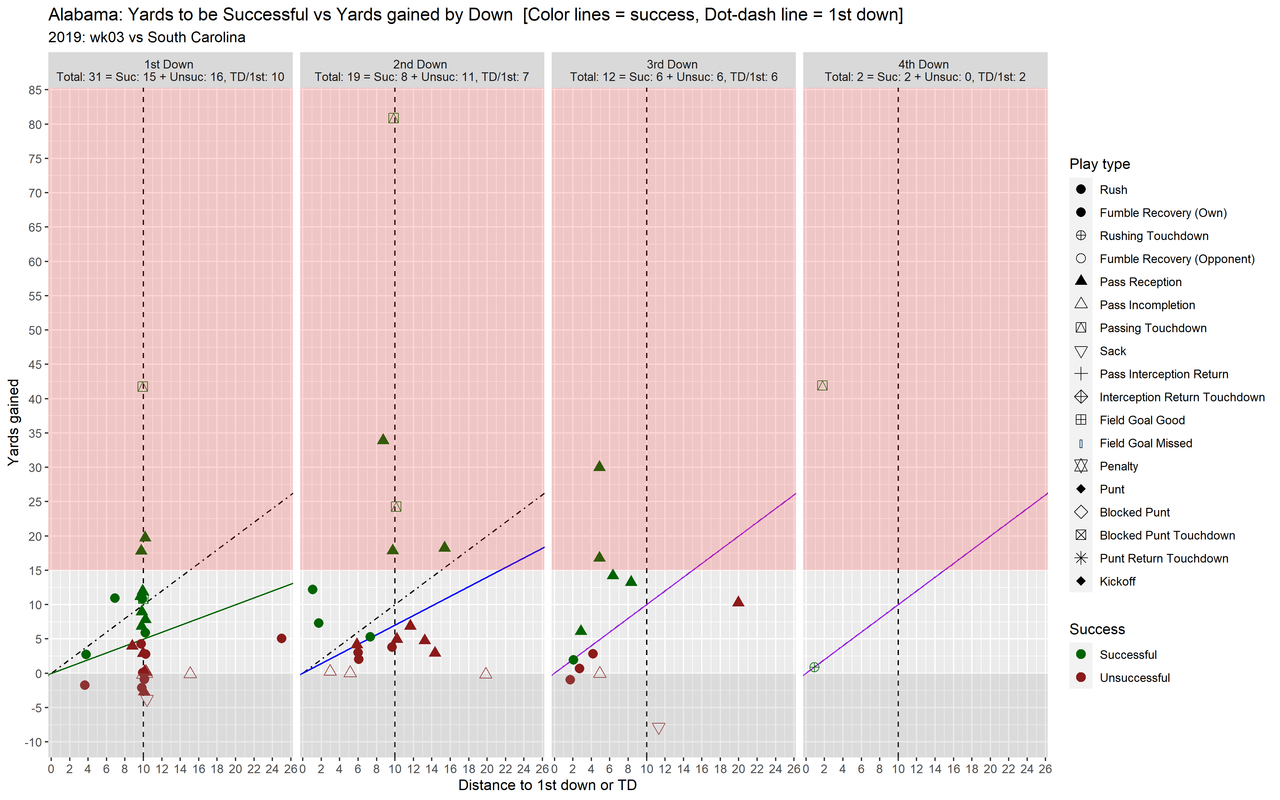 Alabama, 2019, wk03, Success table vs South Carolina
| Down | Total | Successful | Unsuccessful | TD/1st |
| --- | --- | --- | --- | --- |
| 1 | 31 | 15 | 16 | 10 |
| 2 | 19 | 8 | 11 | 7 |
| 3 | 12 | 6 | 6 | 6 |
| 4 | 2 | 2 | 0 | 2 |
South Carolina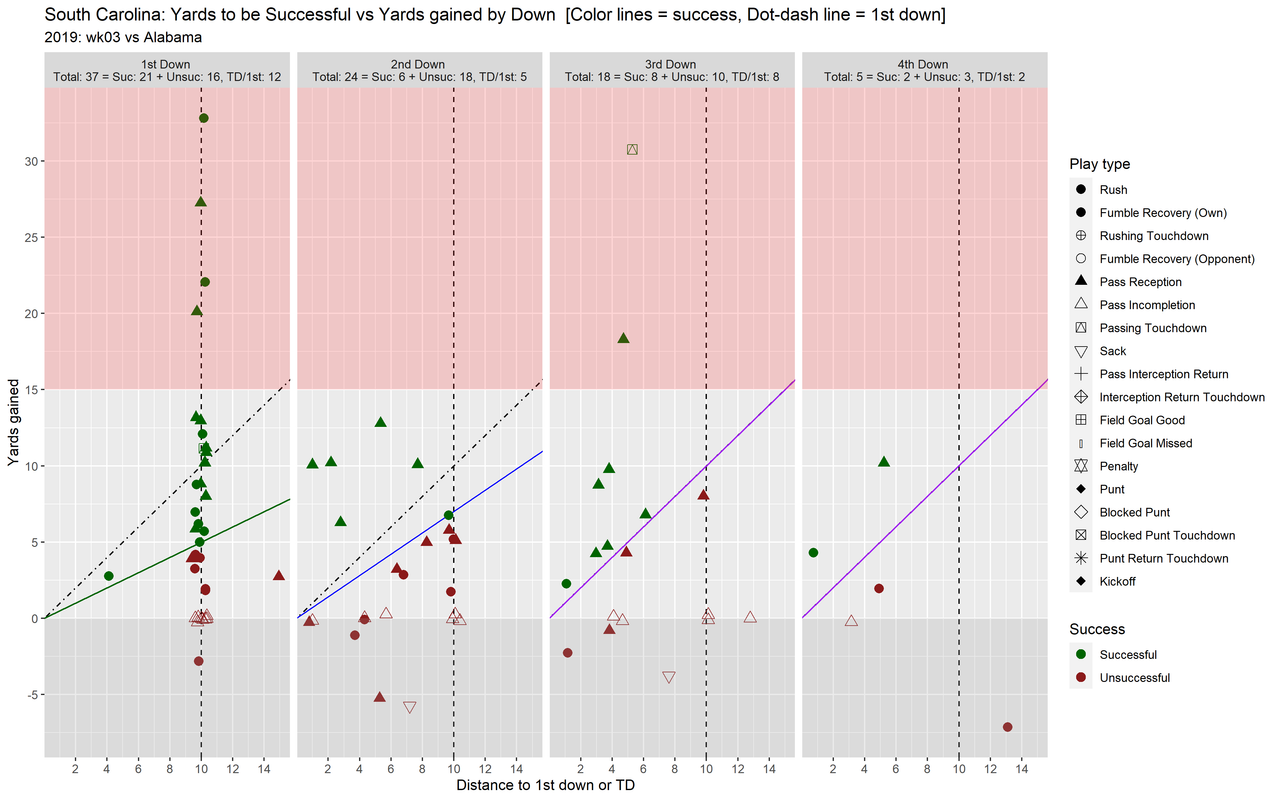 South Carolina, 2019, wk03, Success table vs Alabama
| Down | Total | Successful | Unsuccessful | TD/1st |
| --- | --- | --- | --- | --- |
| 1 | 37 | 21 | 16 | 12 |
| 2 | 24 | 6 | 18 | 5 |
| 3 | 18 | 8 | 10 | 8 |
| 4 | 5 | 2 | 3 | 2 |
Alabama vs Southern Mississippi
Alabama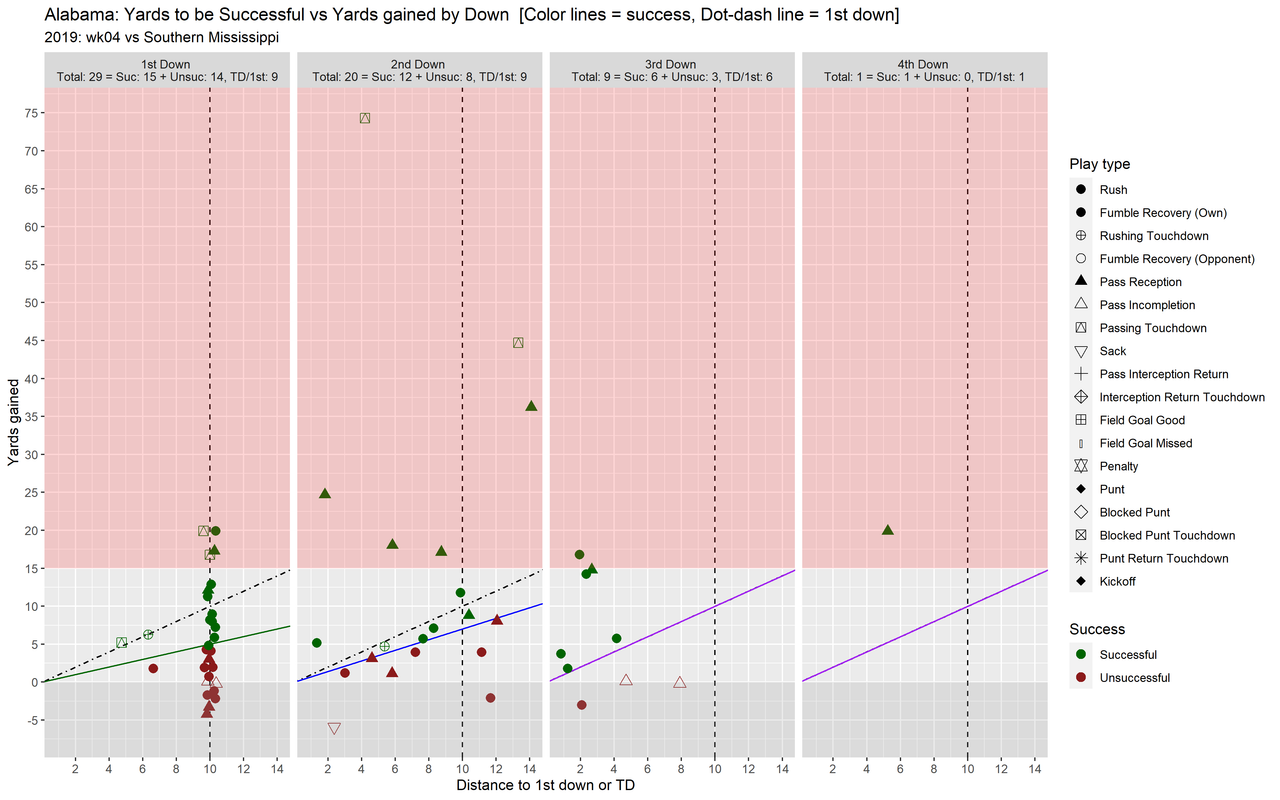 Alabama, 2019, wk04, Success table vs Southern Mississippi
| Down | Total | Successful | Unsuccessful | TD/1st |
| --- | --- | --- | --- | --- |
| 1 | 29 | 15 | 14 | 9 |
| 2 | 20 | 12 | 8 | 9 |
| 3 | 9 | 6 | 3 | 6 |
| 4 | 1 | 1 | 0 | 1 |
Southern Mississippi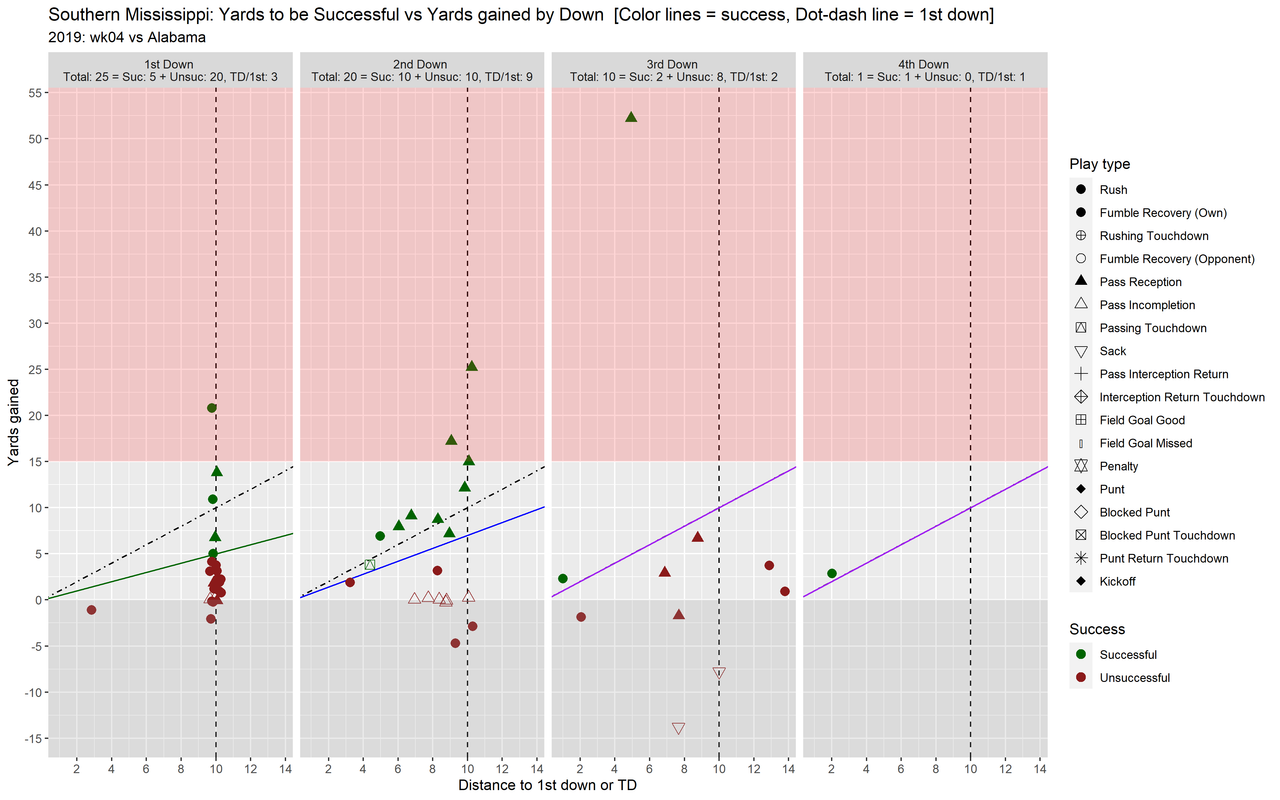 Southern Mississippi, 2019, wk04, Success table vs Alabama
| Down | Total | Successful | Unsuccessful | TD/1st |
| --- | --- | --- | --- | --- |
| 1 | 25 | 5 | 20 | 3 |
| 2 | 20 | 10 | 10 | 9 |
| 3 | 10 | 2 | 8 | 2 |
| 4 | 1 | 1 | 0 | 1 |
Alabama vs Ole Miss
Alabama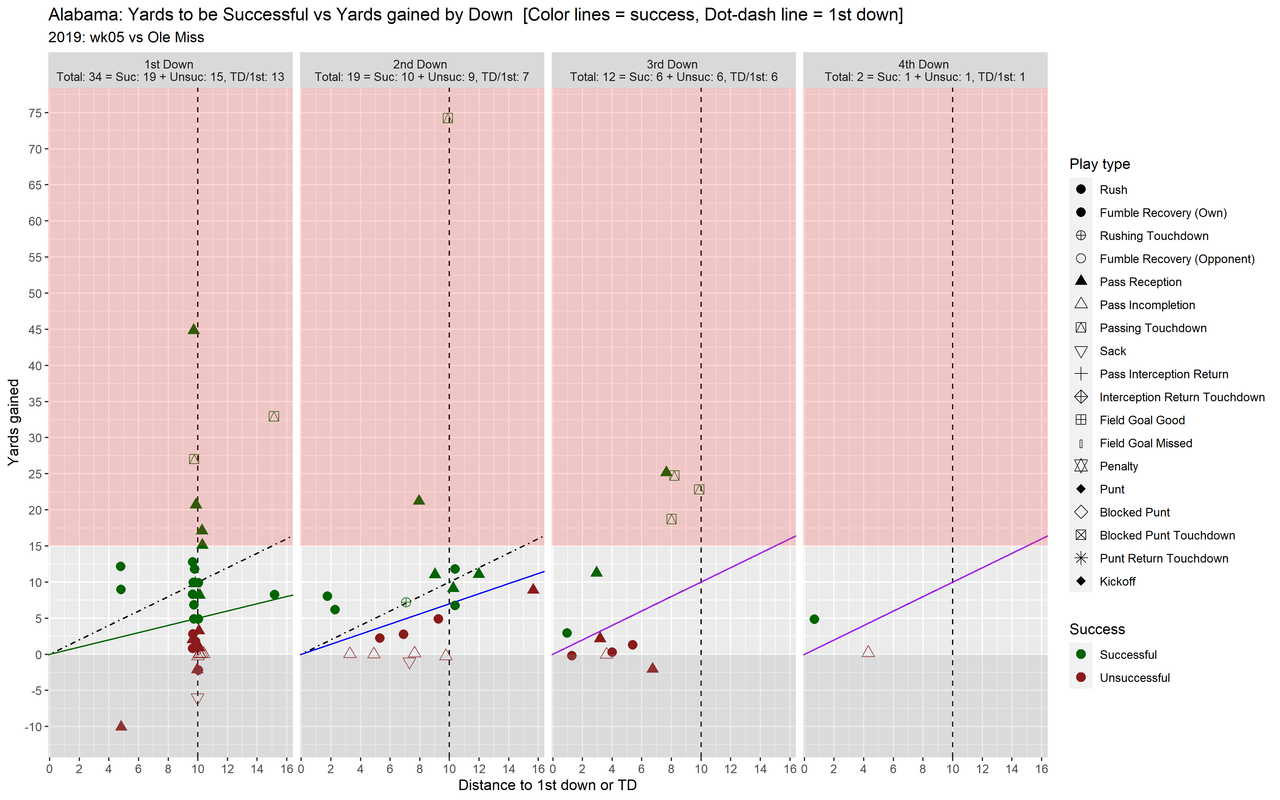 Alabama, 2019, wk05, Success table vs Ole Miss
| Down | Total | Successful | Unsuccessful | TD/1st |
| --- | --- | --- | --- | --- |
| 1 | 34 | 19 | 15 | 13 |
| 2 | 19 | 10 | 9 | 7 |
| 3 | 12 | 6 | 6 | 6 |
| 4 | 2 | 1 | 1 | 1 |
Ole Miss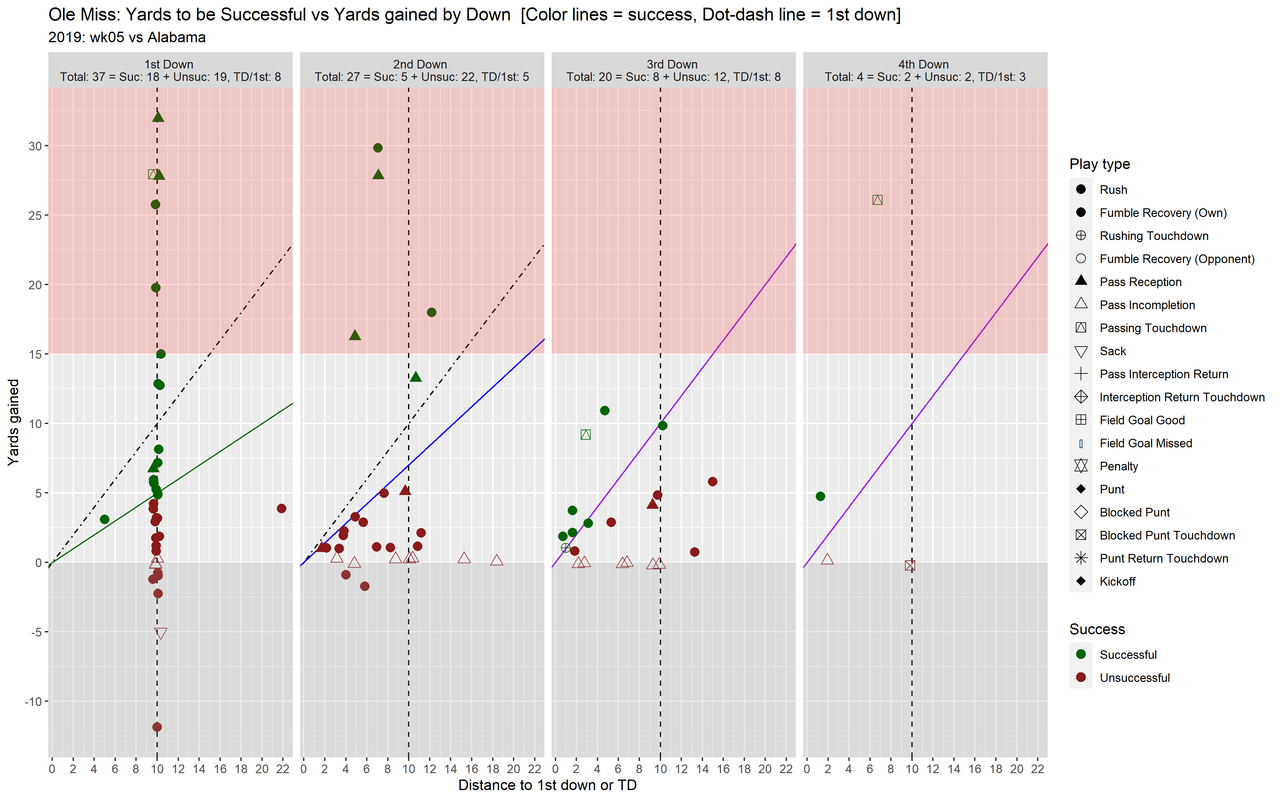 Ole Miss, 2019, wk05, Success table vs Alabama
| Down | Total | Successful | Unsuccessful | TD/1st |
| --- | --- | --- | --- | --- |
| 1 | 37 | 18 | 19 | 8 |
| 2 | 27 | 5 | 22 | 5 |
| 3 | 20 | 8 | 12 | 8 |
| 4 | 4 | 2 | 2 | 3 |
Alabama vs Texas A&M
Alabama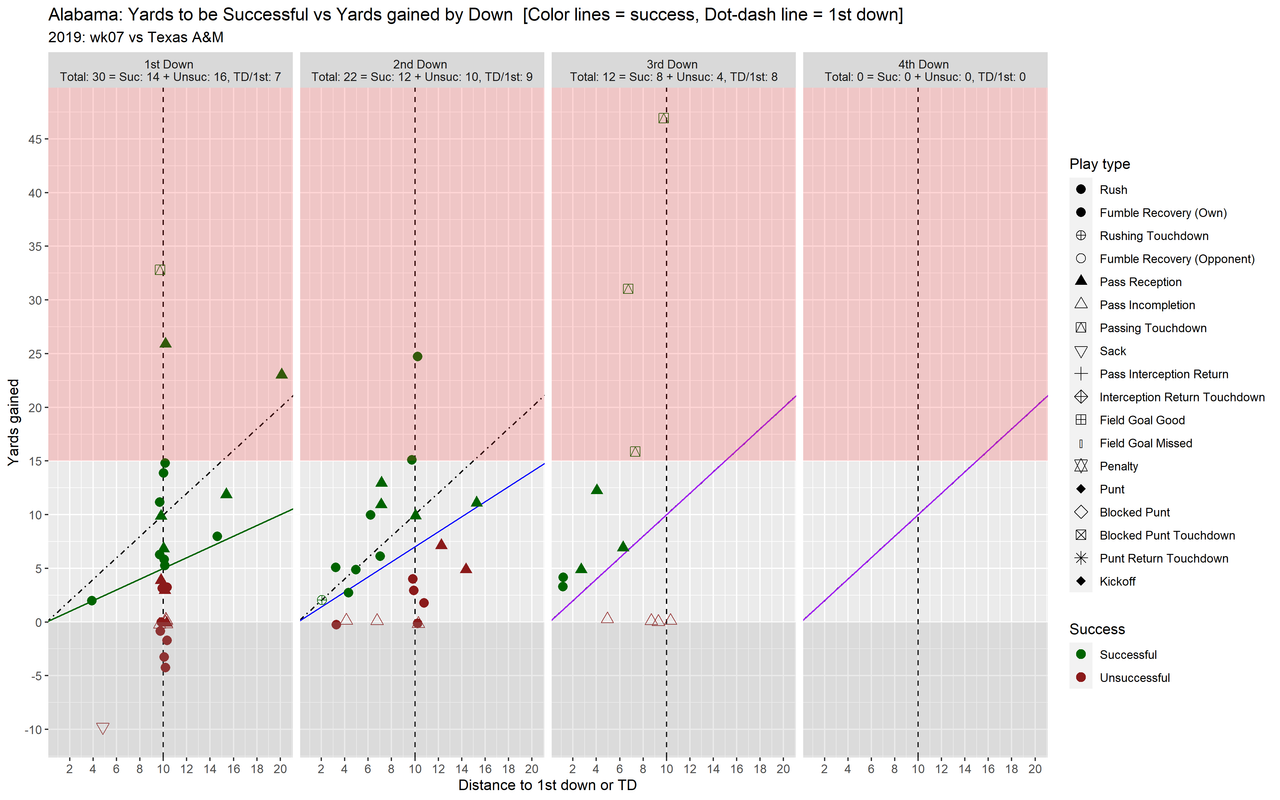 Alabama, 2019, wk07, Success table vs Texas A&M
| Down | Total | Successful | Unsuccessful | TD/1st |
| --- | --- | --- | --- | --- |
| 1 | 30 | 14 | 16 | 7 |
| 2 | 22 | 12 | 10 | 9 |
| 3 | 12 | 8 | 4 | 8 |
| 4 | 0 | 0 | 0 | 0 |
Texas A&M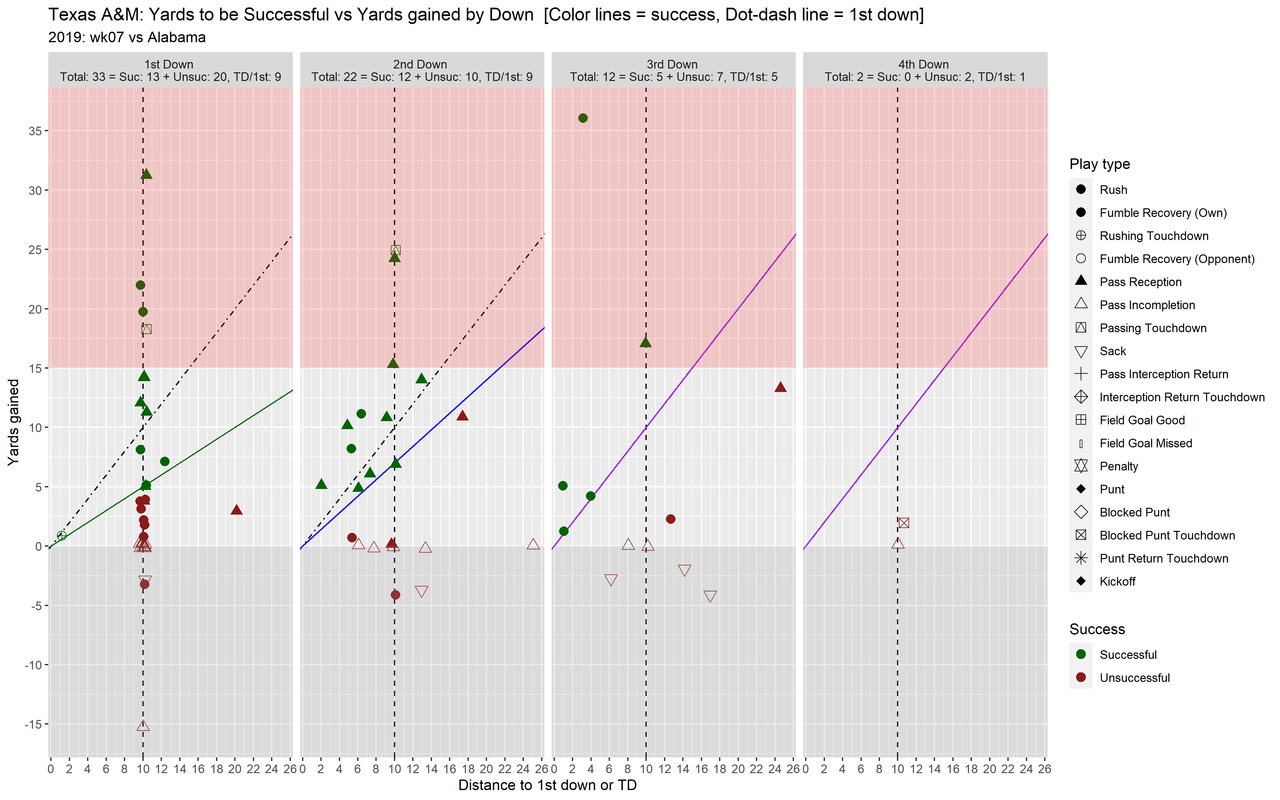 Texas A&M, 2019, wk07, Success table vs Alabama
| Down | Total | Successful | Unsuccessful | TD/1st |
| --- | --- | --- | --- | --- |
| 1 | 33 | 13 | 20 | 9 |
| 2 | 22 | 12 | 10 | 9 |
| 3 | 12 | 5 | 7 | 5 |
| 4 | 2 | 0 | 2 | 1 |
Alabama vs Tennessee
Alabama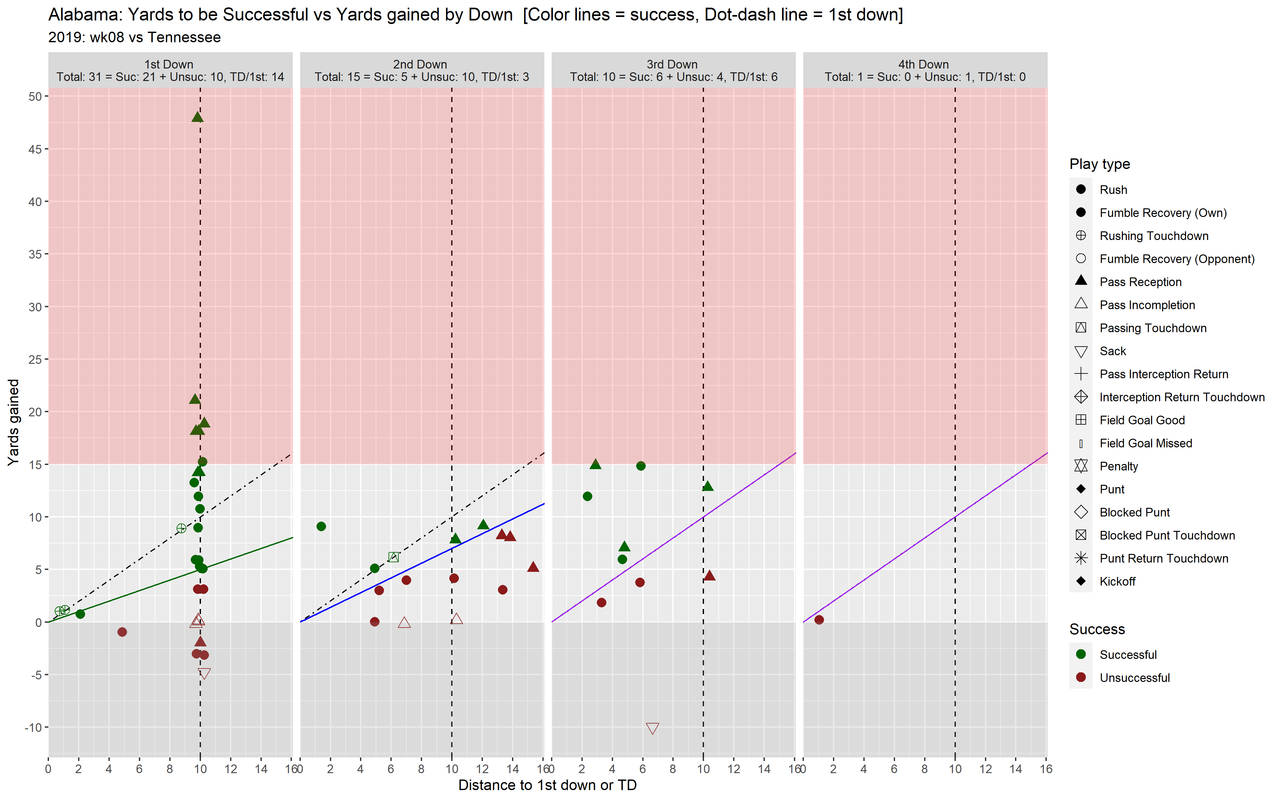 Alabama, 2019, wk08, Success table vs Tennessee
| Down | Total | Successful | Unsuccessful | TD/1st |
| --- | --- | --- | --- | --- |
| 1 | 31 | 21 | 10 | 14 |
| 2 | 15 | 5 | 10 | 3 |
| 3 | 10 | 6 | 4 | 6 |
| 4 | 1 | 0 | 1 | 0 |
Tennessee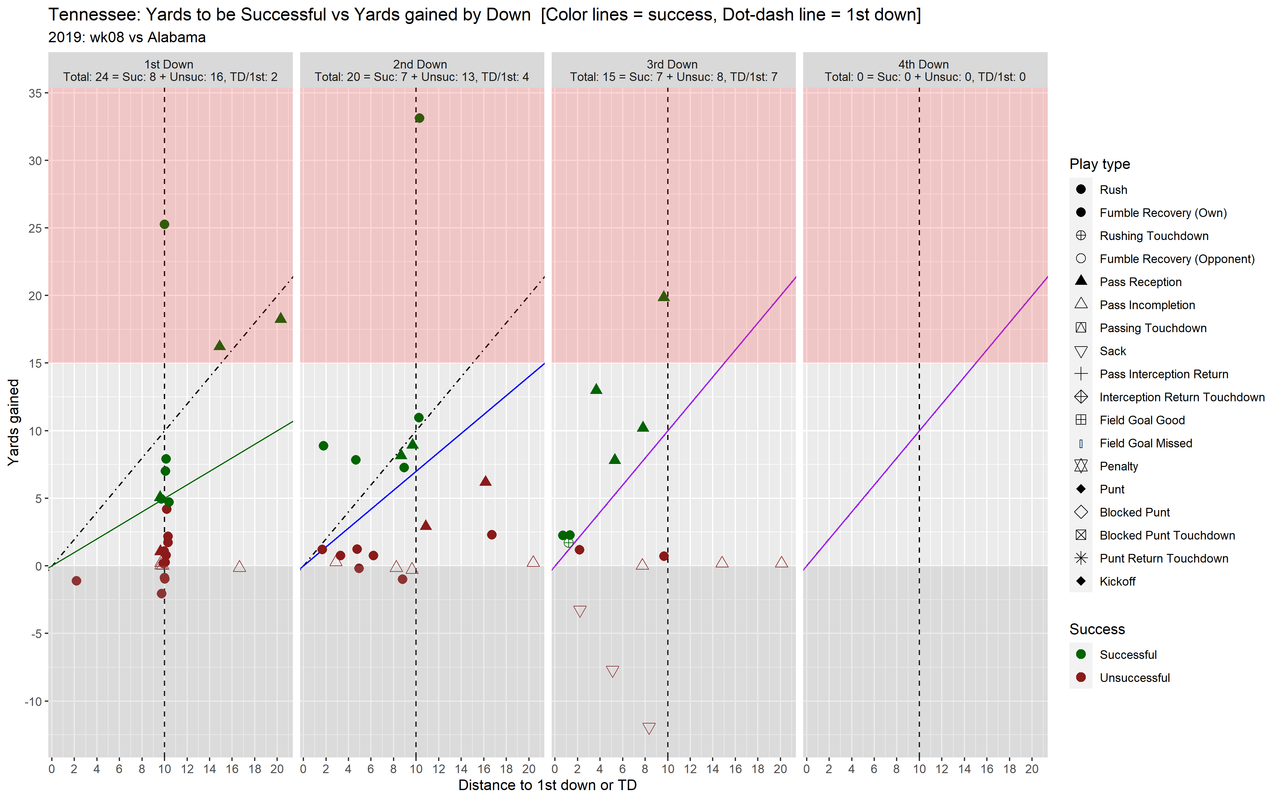 Tennessee, 2019, wk08, Success table vs Alabama
| Down | Total | Successful | Unsuccessful | TD/1st |
| --- | --- | --- | --- | --- |
| 1 | 24 | 8 | 16 | 2 |
| 2 | 20 | 7 | 13 | 4 |
| 3 | 15 | 7 | 8 | 7 |
| 4 | 0 | 0 | 0 | 0 |
Alabama vs Arkansas
Alabama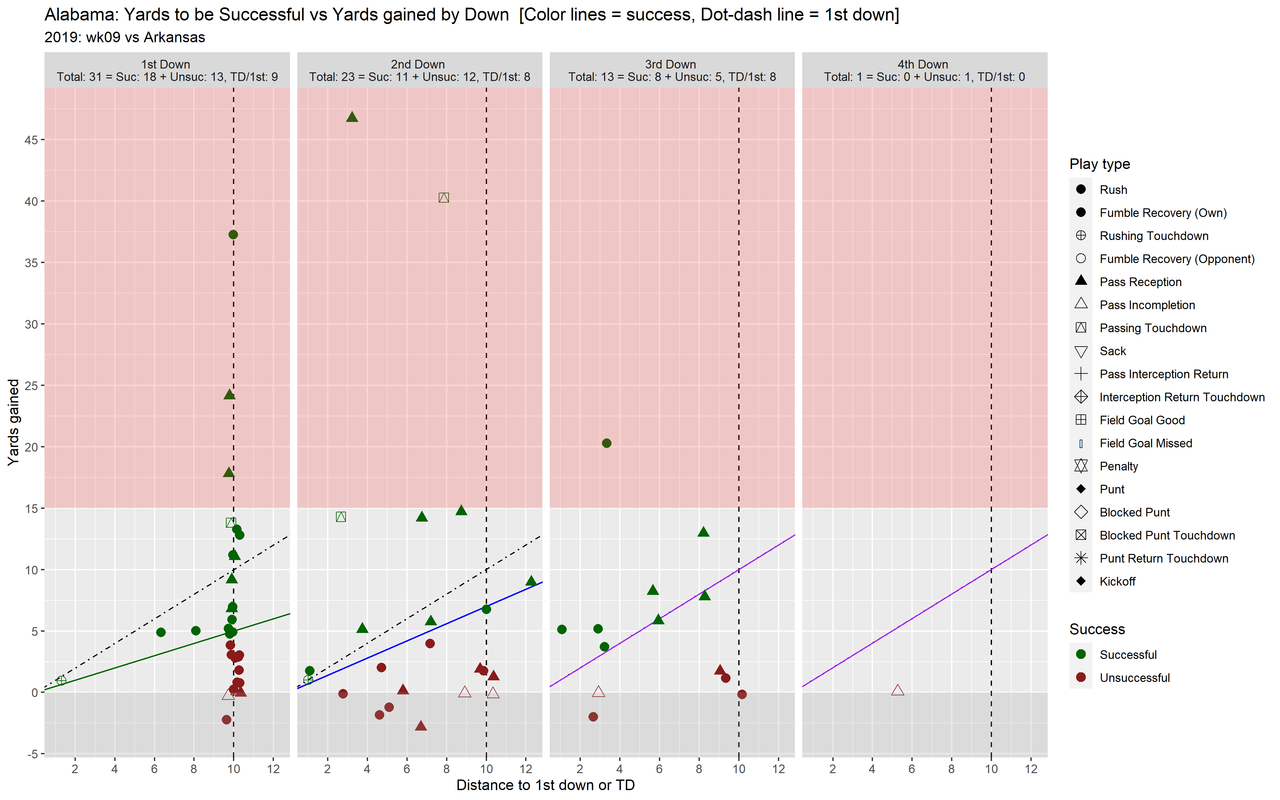 Alabama, 2019, wk09, Success table vs Arkansas
| Down | Total | Successful | Unsuccessful | TD/1st |
| --- | --- | --- | --- | --- |
| 1 | 31 | 18 | 13 | 9 |
| 2 | 23 | 11 | 12 | 8 |
| 3 | 13 | 8 | 5 | 8 |
| 4 | 1 | 0 | 1 | 0 |
Arkansas
Arkansas, 2019, wk09, Success table vs Alabama
| Down | Total | Successful | Unsuccessful | TD/1st |
| --- | --- | --- | --- | --- |
| 1 | 24 | 11 | 13 | 3 |
| 2 | 18 | 7 | 11 | 5 |
| 3 | 11 | 3 | 8 | 4 |
| 4 | 0 | 0 | 0 | 0 |
Alabama vs LSU
Alabama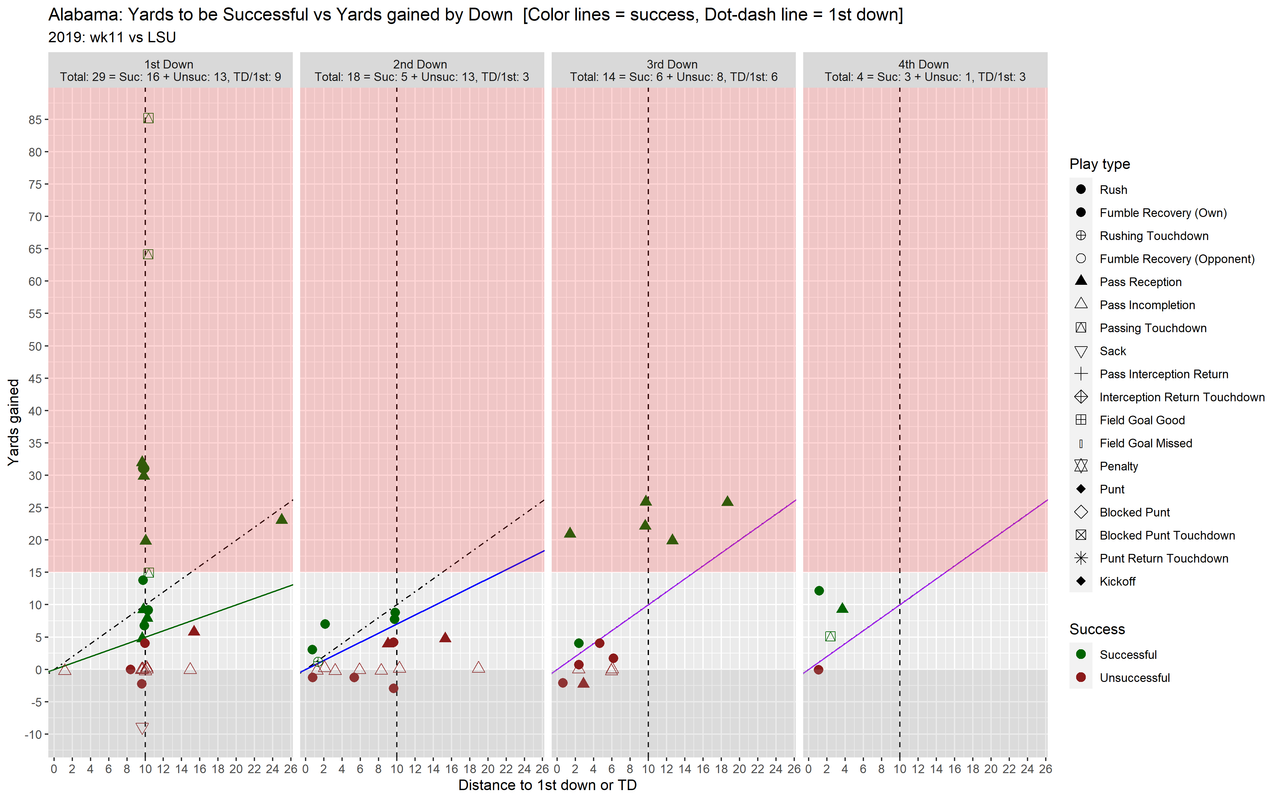 Alabama, 2019, wk11, Success table vs LSU
| Down | Total | Successful | Unsuccessful | TD/1st |
| --- | --- | --- | --- | --- |
| 1 | 29 | 16 | 13 | 9 |
| 2 | 18 | 5 | 13 | 3 |
| 3 | 14 | 6 | 8 | 6 |
| 4 | 4 | 3 | 1 | 3 |
LSU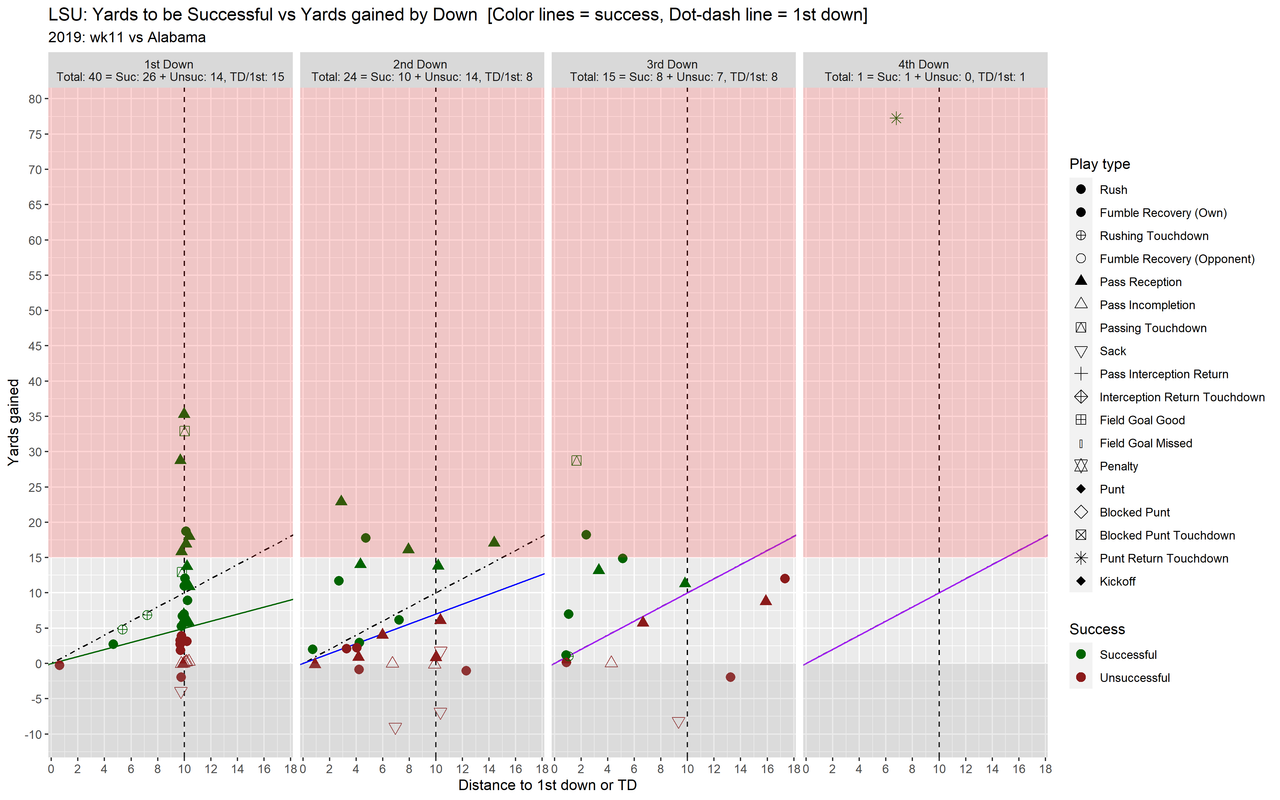 LSU, 2019, wk11, Success table vs Alabama
| Down | Total | Successful | Unsuccessful | TD/1st |
| --- | --- | --- | --- | --- |
| 1 | 40 | 26 | 14 | 15 |
| 2 | 24 | 10 | 14 | 8 |
| 3 | 15 | 8 | 7 | 8 |
| 4 | 1 | 1 | 0 | 1 |
Alabama vs Mississippi St
Alabama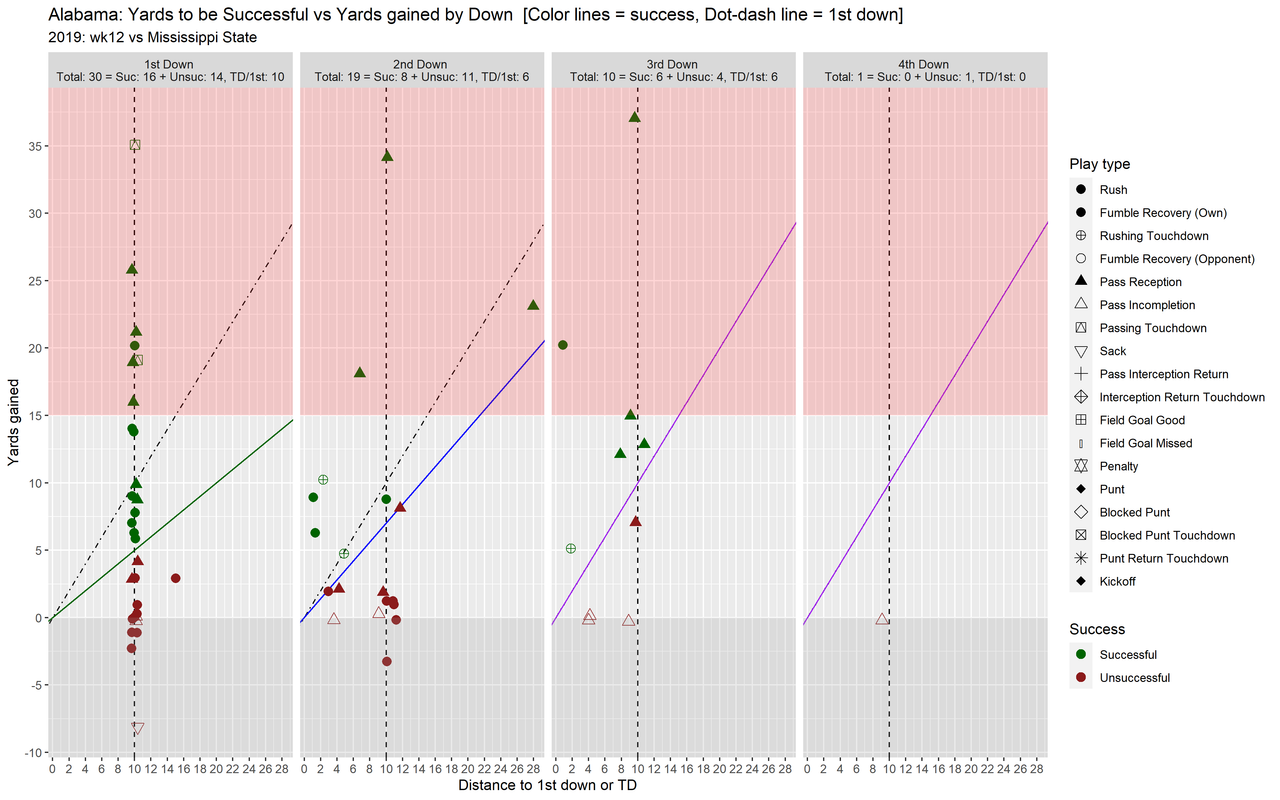 Alabama, 2019, wk12, Success table vs Mississippi State
| Down | Total | Successful | Unsuccessful | TD/1st |
| --- | --- | --- | --- | --- |
| 1 | 30 | 16 | 14 | 10 |
| 2 | 19 | 8 | 11 | 6 |
| 3 | 10 | 6 | 4 | 6 |
| 4 | 1 | 0 | 1 | 0 |
Mississippi St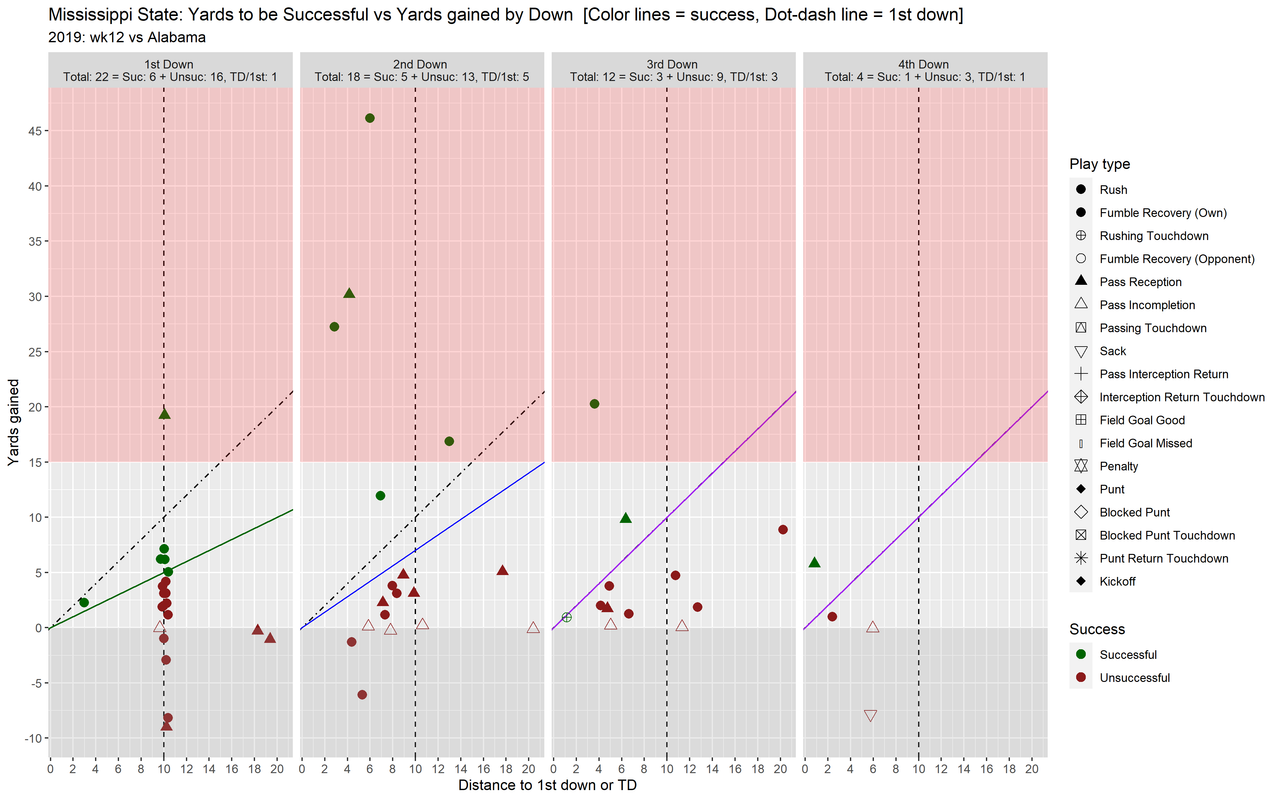 Mississippi State, 2019, wk12, Success table vs Alabama
| Down | Total | Successful | Unsuccessful | TD/1st |
| --- | --- | --- | --- | --- |
| 1 | 22 | 6 | 16 | 1 |
| 2 | 18 | 5 | 13 | 5 |
| 3 | 12 | 3 | 9 | 3 |
| 4 | 4 | 1 | 3 | 1 |
Alabama vs Western Carolina
Alabama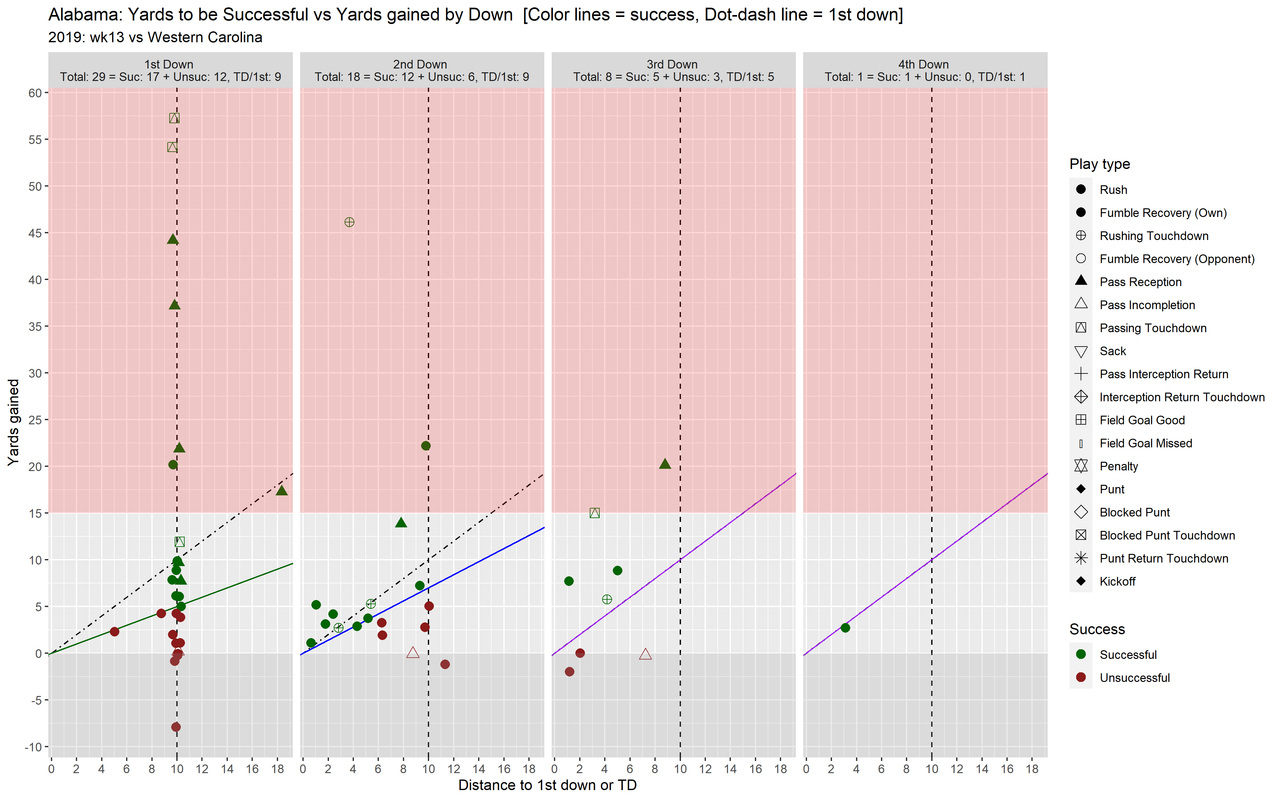 Alabama, 2019, wk13, Success table vs Western Carolina
| Down | Total | Successful | Unsuccessful | TD/1st |
| --- | --- | --- | --- | --- |
| 1 | 29 | 17 | 12 | 9 |
| 2 | 18 | 12 | 6 | 9 |
| 3 | 8 | 5 | 3 | 5 |
| 4 | 1 | 1 | 0 | 1 |
Western Carolina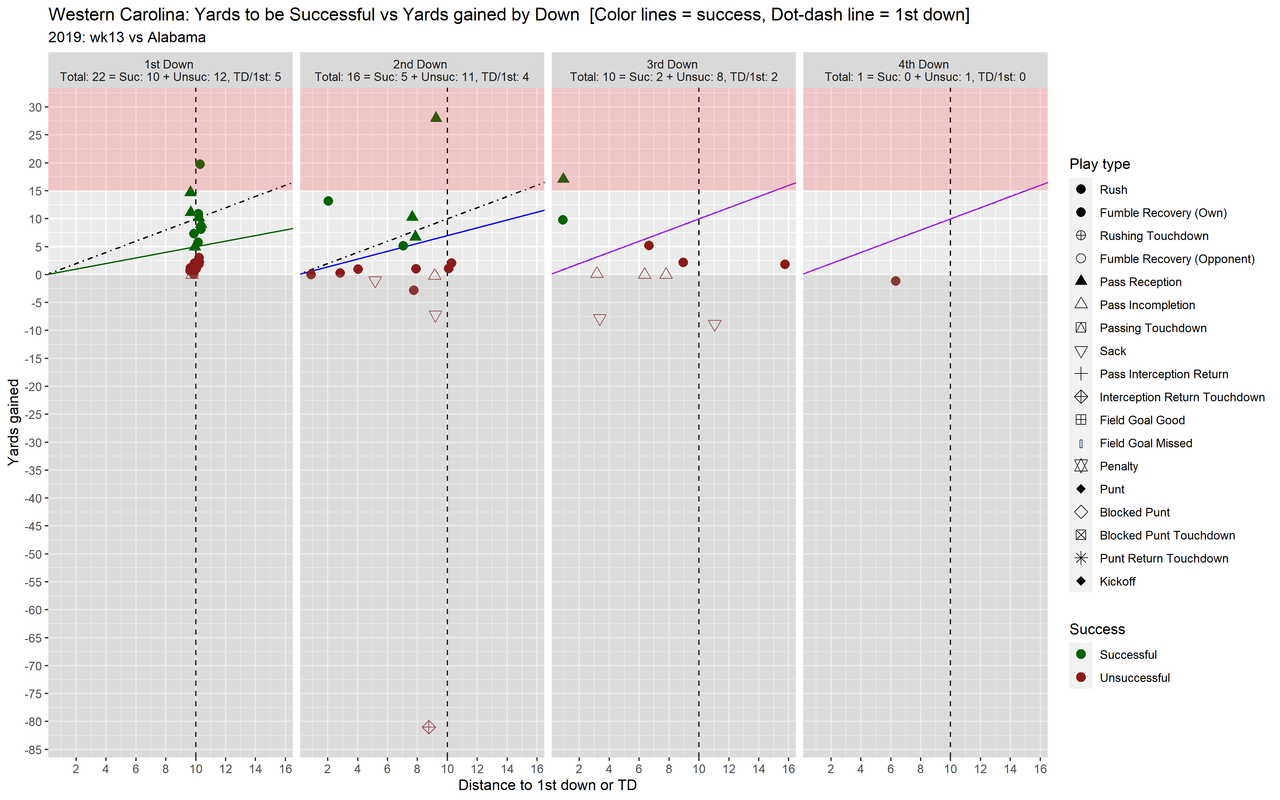 Western Carolina, 2019, wk13, Success table vs Alabama
| Down | Total | Successful | Unsuccessful | TD/1st |
| --- | --- | --- | --- | --- |
| 1 | 22 | 10 | 12 | 5 |
| 2 | 16 | 5 | 11 | 4 |
| 3 | 10 | 2 | 8 | 2 |
| 4 | 1 | 0 | 1 | 0 |
Alabama vs Auburn
Alabama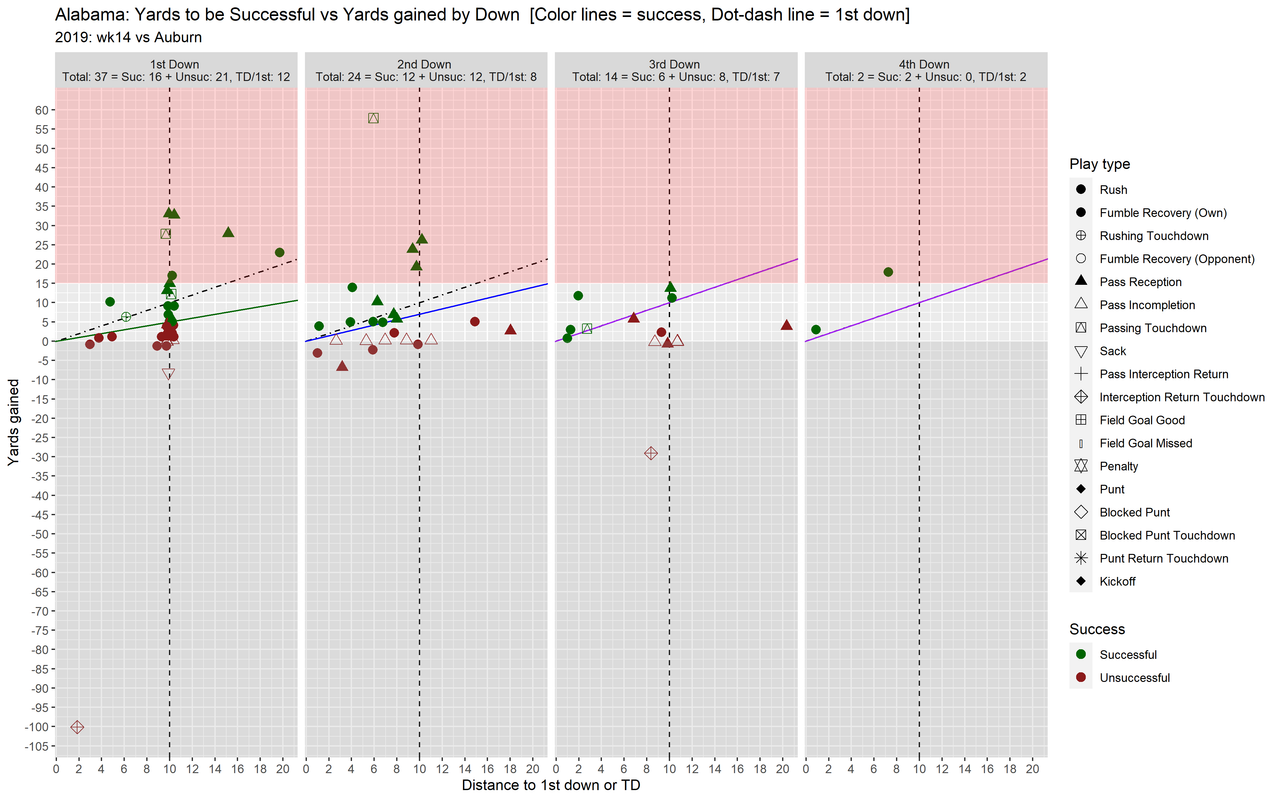 Alabama, 2019, wk14, Success table vs Auburn
| Down | Total | Successful | Unsuccessful | TD/1st |
| --- | --- | --- | --- | --- |
| 1 | 37 | 16 | 21 | 12 |
| 2 | 24 | 12 | 12 | 8 |
| 3 | 14 | 6 | 8 | 7 |
| 4 | 2 | 2 | 0 | 2 |
Auburn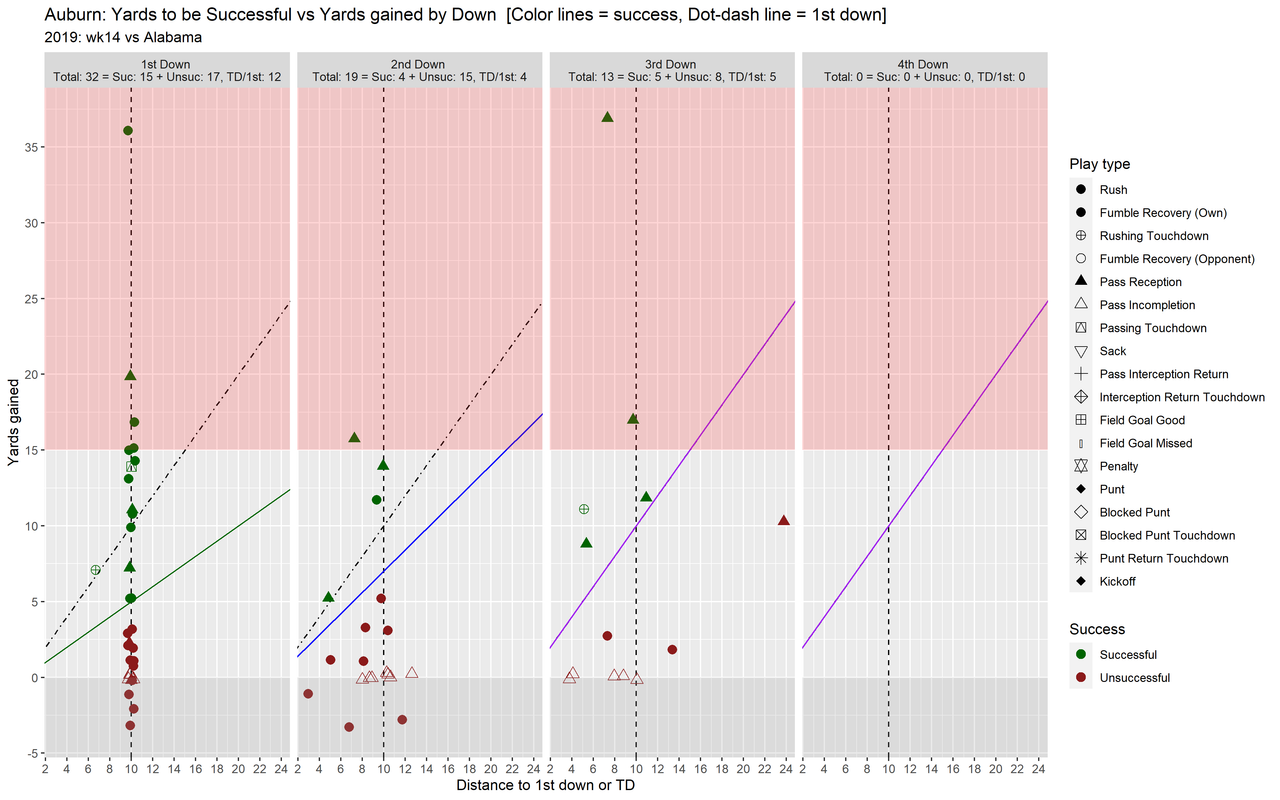 Auburn, 2019, wk14, Success table vs Alabama
| Down | Total | Successful | Unsuccessful | TD/1st |
| --- | --- | --- | --- | --- |
| 1 | 32 | 15 | 17 | 12 |
| 2 | 19 | 4 | 15 | 4 |
| 3 | 13 | 5 | 8 | 5 |
| 4 | 0 | 0 | 0 | 0 |
Alabama vs Michigan
Alabama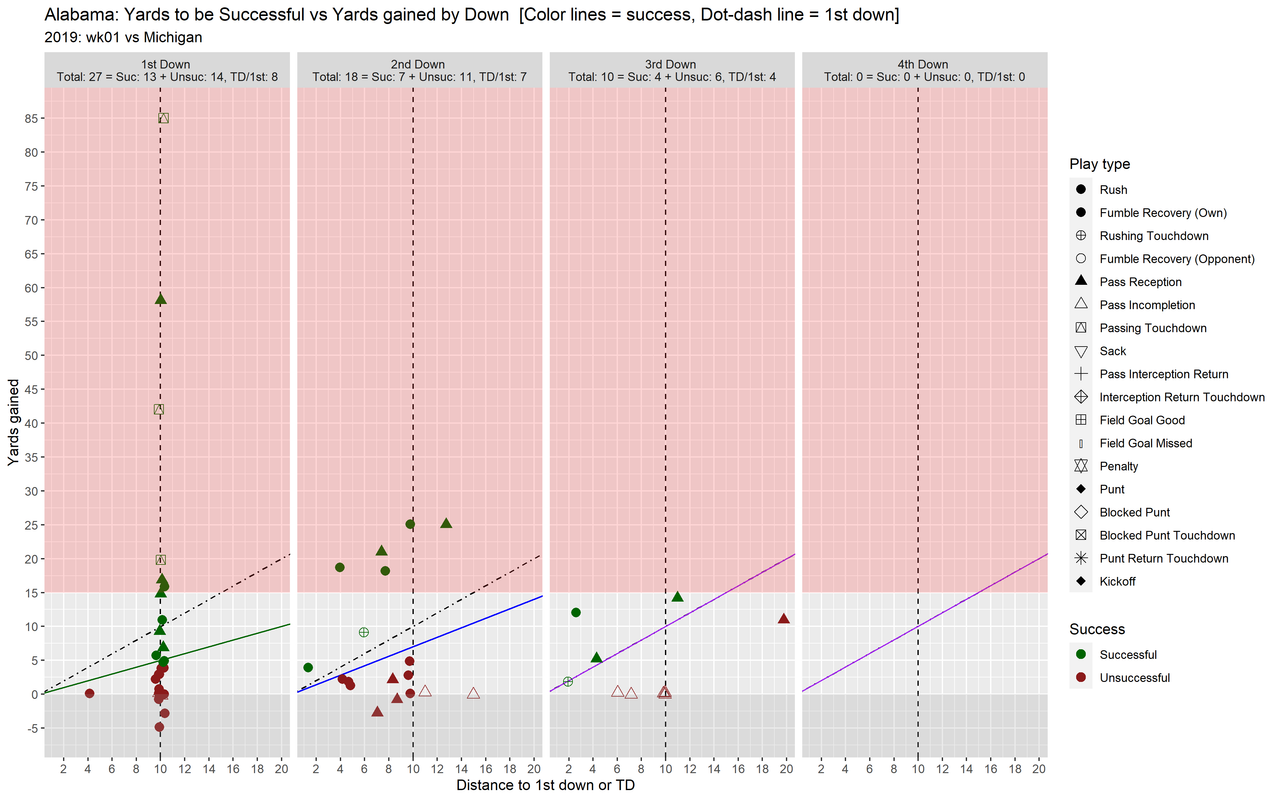 Alabama, 2019, wk01, Success table vs Michigan
| Down | Total | Successful | Unsuccessful | TD/1st |
| --- | --- | --- | --- | --- |
| 1 | 27 | 13 | 14 | 8 |
| 2 | 18 | 7 | 11 | 7 |
| 3 | 10 | 4 | 6 | 4 |
| 4 | 0 | 0 | 0 | 0 |
Michigan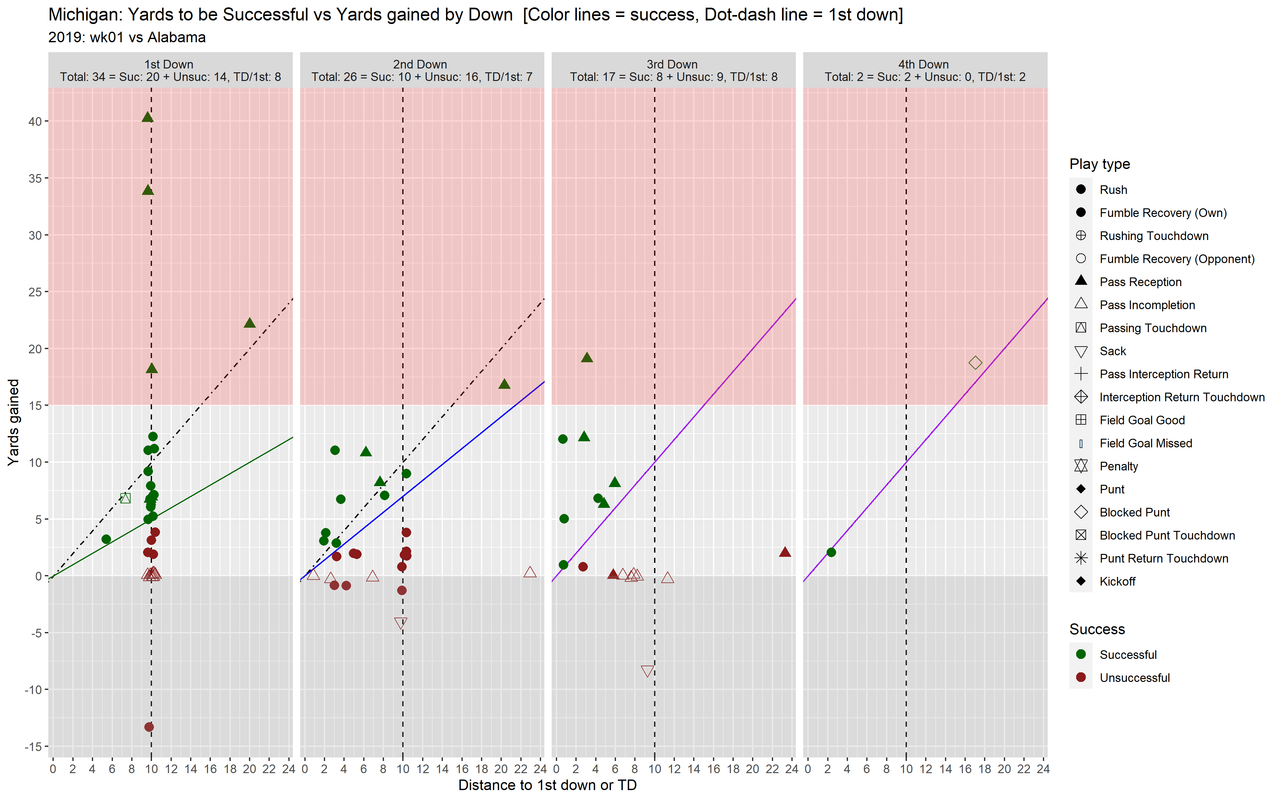 Michigan, 2019, wk01, Success table vs Alabama
| Down | Total | Successful | Unsuccessful | TD/1st |
| --- | --- | --- | --- | --- |
| 1 | 34 | 20 | 14 | 8 |
| 2 | 26 | 10 | 16 | 7 |
| 3 | 17 | 8 | 9 | 8 |
| 4 | 2 | 2 | 0 | 2 |