Quick rant: I hate people. I'm sure they think they are clever and cute calling it week 0, but its not and they are dumb.
What more needs to be said, just look at the SR by Drive and Offensive drives by drive (1st and 2nd graphs) and the penalty charts. Ignoring the one play TD drive our SR by drive barely topped 0.6 and we had four drives with a 0.0 SR. Looking at the Offensive drives by drive we only had two drives that I would claim we sustained drives: drive 1 and drive 9. Drive 9 was the only one that resulted in a TD. Drives 10 and 11 started out well, but then petered out. Maybe there is a definition of sustained drive out there in terms of SR? Maybe something inspired by a statistical process control chart... maybe a rolling ratio of successful to unsuccessful plays? Looking at my graphs the Extra yards gained might be the graph to concentrate on. Anyway, I'm just happy we have a FG kicker again this season.
The penalty data buried in the play text leaves something to be desired. I know there we committed a penalty that was declined, but either my code missed it or it's not in the data. I took a quick glance at the data and couldn't find it so maybe my code is fine. (Not sure which is worse. If my code is missing it I can add more code, but if its missing from the data there is nothing I can do but rewatch the game and add it to the play text.)
I'm not really a fan of calling out players, but I'm pretty sure that Will Anderson committed 4 of the 15 penalties in that game. (Yep 15 enforced penalties in one fracking game... in fact it was in the first 3 quarters.) Maybe he needs to think less about the Heisman and more on how to NOT line up offsides! And his personal foul for a late hit was embarrassing. For someone who is supposed to be a team leader that is unacceptable.
I will say that I disagree with the Dallas Turner Roughing the Passer penalty. If you don't want to get your shoulder jammed into the turf, then don't jump into the air at the last minute and throw the ball. I hate injuries, but quarterbacks have more control over how much they get hit than any other player. I understand protecting the players, but let's don't go so far that the defense can't affect the quarterback.
Another "iffy" call for me was the facemask along the sideline. I can't recall who it was called on, but the runner looked to have his facemask as well and be twisting his head. It'd be nice if they would call the offense for this as well as the defense.
Note that in the All SEC peanlties section that I haven't checked for accuracy. But I do know that the Vandy data is wrong since the week 0 data doesn't contain any penalties and I know they committed at least 5 penalties in that game. I need to figure out a workaround to patch up this type of error, but haven't thought of a convenient way to do it yet.
That is all I have for now. As always any feedback is appreciated. Roll Tide.
| Drive number | Total | Successful | Unsuccessful | Success rate | Scoring drive |
| --- | --- | --- | --- | --- | --- |
| 1 | 10 | 6 | 4 | 0.6 | false |
| 2 | 1 | 1 | 0 | 1.0 | true |
| 3 | 9 | 2 | 7 | 0.222222 | false |
| 4 | 3 | 0 | 3 | 0.0 | false |
| 5 | 3 | 0 | 3 | 0.0 | false |
| 6 | 3 | 0 | 3 | 0.0 | false |
| 7 | 3 | 0 | 3 | 0.0 | false |
| 8 | 4 | 1 | 3 | 0.25 | false |
| 9 | 11 | 7 | 4 | 0.636364 | true |
| 10 | 8 | 4 | 4 | 0.5 | false |
| 11 | 8 | 5 | 3 | 0.625 | false |
| Down | Successful | Unsuccessful | Total | TD/1st |
| --- | --- | --- | --- | --- |
| 1 | 14 | 12 | 26 | 7 |
| 2 | 6 | 13 | 19 | 4 |
| 3 | 5 | 11 | 16 | 5 |
| 4 | 0 | 0 | 0 | 1 |
| Penalty_team | Penalty_type | Penalty_status |
| --- | --- | --- |
| Alabama | Offensive Holding | enforced |
| Alabama | False Start | enforced |
| Alabama | Defensive Offside | enforced |
| Alabama | Defensive Offside | enforced |
| Alabama | Personal Foul | enforced |
| Alabama | Roughing Passer | enforced |
| Alabama | False Start | enforced |
| Alabama | False Start | enforced |
| Alabama | Defensive Offside | enforced |
| Alabama | Pass Interference | enforced |
| Alabama | Pass Interference | enforced |
| Alabama | Personal Foul | enforced |
| Alabama | Personal Foul | enforced |
| Alabama | Offside | enforced |
| Alabama | Personal Foul | enforced |
| Texas | Personal Foul | enforced |
| Texas | Illegal Formation | enforced |
| Texas | False Start | enforced |
| Texas | Intentional Grounding | enforced |
| Texas | False Start | enforced |
| Drive number | Total | Successful | Unsuccessful | Success rate | Scoring drive |
| --- | --- | --- | --- | --- | --- |
| 1 | 13 | 7 | 6 | 0.538462 | false |
| 2 | 6 | 4 | 2 | 0.666667 | true |
| 3 | 5 | 1 | 4 | 0.2 | false |
| 4 | 4 | 1 | 3 | 0.25 | false |
| 5 | 6 | 3 | 3 | 0.5 | false |
| 6 | 3 | 0 | 3 | 0.0 | false |
| 7 | 3 | 0 | 3 | 0.0 | false |
| 8 | 5 | 2 | 3 | 0.4 | false |
| 9 | 11 | 6 | 5 | 0.545455 | false |
| 10 | 3 | 0 | 3 | 0.0 | false |
| 11 | 7 | 3 | 4 | 0.428571 | false |
| 12 | 1 | 1 | 0 | 1.0 | false |
| Down | Successful | Unsuccessful | Total | TD/1st |
| --- | --- | --- | --- | --- |
| 1 | 12 | 21 | 33 | 7 |
| 2 | 13 | 9 | 22 | 9 |
| 3 | 3 | 9 | 12 | 3 |
| 4 | 0 | 0 | 0 | 0 |
| Penalty_team | Penalty_type | Penalty_status |
| --- | --- | --- |
| Alabama | Offensive Holding | enforced |
| Alabama | False Start | enforced |
| Alabama | Defensive Offside | enforced |
| Alabama | Defensive Offside | enforced |
| Alabama | Personal Foul | enforced |
| Alabama | Roughing Passer | enforced |
| Alabama | False Start | enforced |
| Alabama | False Start | enforced |
| Alabama | Defensive Offside | enforced |
| Alabama | Pass Interference | enforced |
| Alabama | Pass Interference | enforced |
| Alabama | Personal Foul | enforced |
| Alabama | Personal Foul | enforced |
| Alabama | Offside | enforced |
| Alabama | Personal Foul | enforced |
| Texas | Personal Foul | enforced |
| Texas | Illegal Formation | enforced |
| Texas | False Start | enforced |
| Texas | Intentional Grounding | enforced |
| Texas | False Start | enforced |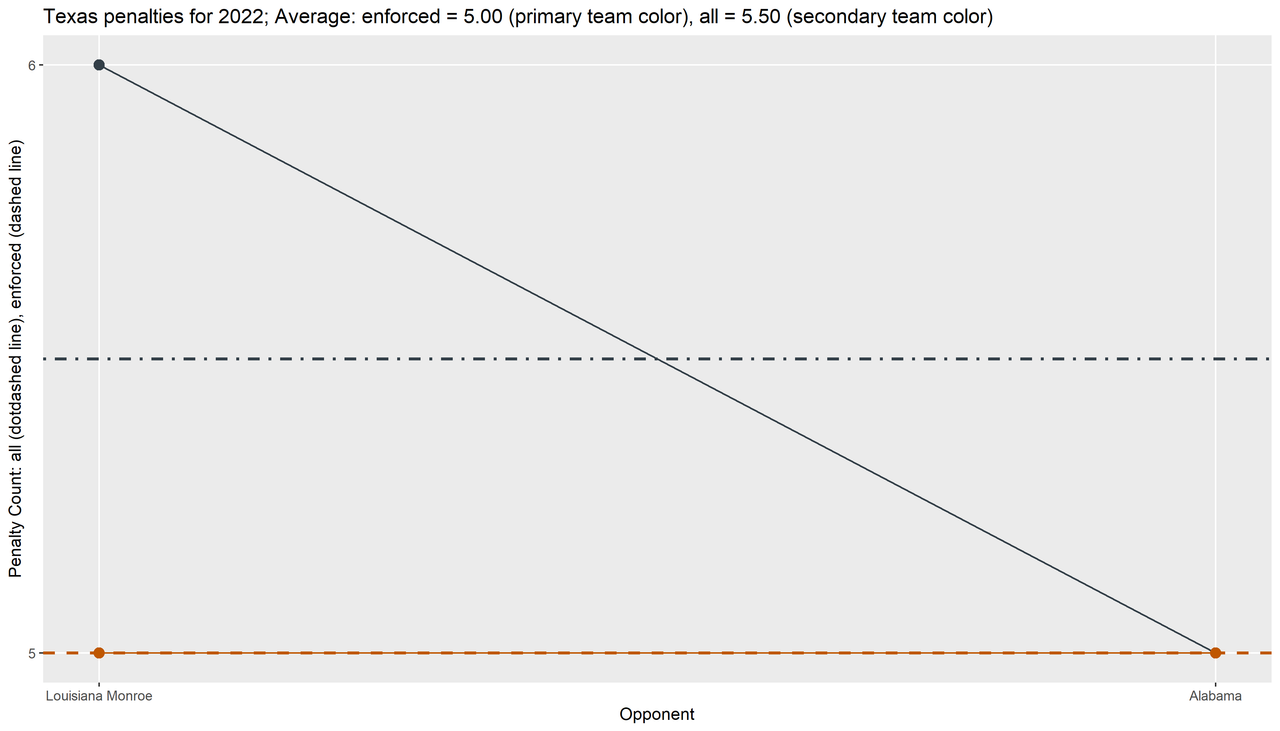 All SEC teams
Data: @CFB_Data or collegefootballdata.com